Price:

ranges ¥250-¥1500/person
Address:

3 Chome-37-10 Asagaya-minami, Suginami, Tokyo (Ichiba Kitchen Studio, YS Descendants Bldg, 2F)
Distance from Station:

2 minutes from JR Asagaya Station, South Exit
Communication:

English Interpreters available, some workshops by English speakers (tea ceremony & origami)
no-smoking
no-credit-card
no-shoes
disable-access
JAPAN CULTURE WORKSHOPS
August 4-6 (Friday-Sunday), Come Join Japanese Culture Workshops in Asagaya, Tokyo!
We'll be having three days of workshops during the Tanabata Festival in Asagaya. You can learn how to make various kinds of sushi, tea ceremony, how to make accessories for kimono/yukata, shodo (Japanese calligraphy), and origami peace cranes for Hiroshima Day (August 6th). Best of all, you can wear yukata (Japanese summer robe) and be dressed up by a kitsuke professional, someone who is highly skilled at helping you wear your yukata properly (even Japanese often take advantage of such a service). You can sign up for each workshop for a low price via this website. Please sign up and enjoy a traditional Japanese experience while you are visiting Japan! Of course, non-Japanese living in Japan and Japanese are welcome to join the workshops. You can sign up for one or as many workshops as you like.
SCHEDULE & SIGN-UP CODES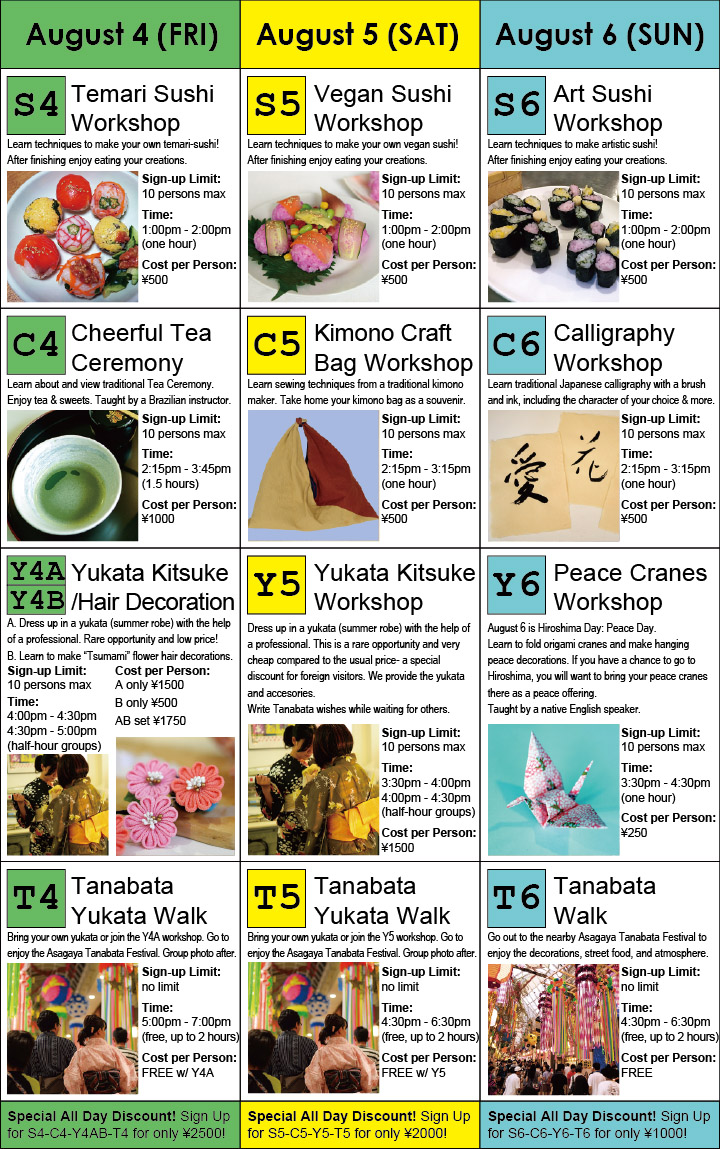 ■Sign up/schedule/inquiry: Please contact/sign-up by sending an email to:
jpcultureweb@npo-tff.org
Please include the following information for each member of your group:
① Your name
② your country/native language
③ age
④ 2-Digit Codes for Workshop(s) you wish to join (Ex.: Y5, T5)
*PLEASE NOTE: Workshops that do not have at least 3 participants WILL BE CANCELED ON July 28th, a week before the workshops. PLEASE SIGN UP BY JULY 27th to help ensure your workshop will not be canceled. THANK YOU!
ACCESS