Asagaya: Shopping, Star Road, Tanabata, Jazz
Asagaya is a lively town with its summer Tanabata Festival (started over 60 years ago) in the Pearl Center shopping arcade, where during any season souvenir shops, Japanese sweets shops, and restaurants provide plenty of options. Star Road on the station's north side provides a vibrant nightlife scene with its many bars and restaurants. Fall brings the Asagaya Jazz Streets festival, where jazz is played throughout the area outdoors and inside various cafes and venues. Asagaya is known for its jazz circuit, with some jazz bars/clubs established over 30 years ago. Japanese animation has also put Asagaya on the map with its many animation studios and select destinations.
ASAGAYA
A Brief History Lesson
According to the website for the Asagaya Pearl Center shopping street, arguably Asagaya's biggest draw for shopping and nostalgia, back in the Nanbokucho period (1336-92) a powerful clan known as the Asakaya clan reigned, and the whole surrounding area was referred to as "Asagaya". In the Edo period (1603-1868) it became known as "Asagaya Village", into the Meiji period (1868-1912) when the surrounding towns and villages were integrated as "Suginami Village". At the end of the Taisho era (1912-1926) the so-called "Asagaya Literaries", a cultural circle including many poets and novelists, came into prominence. The opening of the JR Asagaya rail station in 1922 and the influx to the area following the destruction of central Tokyo from the Great Kanto Earthquake in 1923 are generally cited as the reasons such literary men relocated to what was once a simple farming village. In Asagaya the literary men formed the "Asagaya-kai", a club of sorts, which met once a month to enjoy social gatherings involving shogi (Japanese chess) and the consumption of alcohol. Perhaps this tradition continues to live on in the biannual Asagaya Nomiyasan bar-hopping festival, and the Star Road and Ichiban Gai areas in general.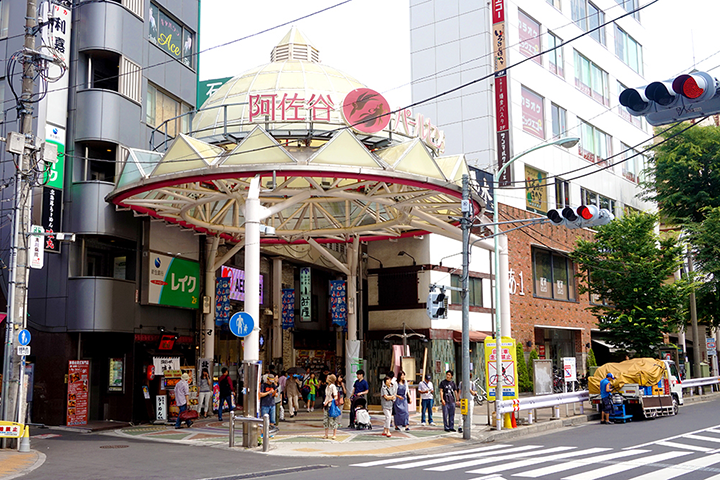 Getting to Asagaya
From JR Shinjuku or Tokyo Station: Take the JR Chuo Line west (toward Mitaka/Takao) and get off at Asagaya Station. It's about 8 minutes from Shinjuku (170 yen) and 22 minutes from Tokyo (310 yen).
*Note that the Chuo Line does not stop at Asagaya on weekends, so you will need to take the Chuo Sobu Line instead.
*Also note that other than the regular "Rapid" Service, other Chuo Line trains (Special Rapid, Commuter Special Rapid, etc.) do NOT stop at Asagaya. Depending on the time you may also board a train that terminates at Nakano Station. In that case get off and wait for the next train.
Asagaya Souvenirs
Asagaya is well known for its long-standing "wagashi" Japanese sweets shops, with several located in the Pearl Center shopping street alone. Eat the fish-shaped "taiyaki" from Tomoe-an while walking the Pearl Center street or be one of Usagiya's 1,000 daily customers for their popular "dorayaki". Hachinoki, Toraya-Chinzan, and Eitarou are great places to find seasonal sweets that make great gifts.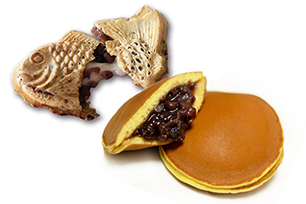 Asagaya Areas
One of longest covered "shotengai" shopping streets in Tokyo, the Asagaya Pearl Center is one of the key places in the area for shopping, good eats, and Showa era nostalgia. The large dome entrance is easy to spot across the street from the south exit of Asagaya Station. Star Road, Ichiban Gai, and Kawabata Dori are Asagaya's night life areas, also close to the station.
Asagaya Events
The Asagaya Tanabata Festival is one of the most famous Tanabata style events in Tokyo, taking after the Sendai version with its hanging decorations, yet Asagaya's version is its own original spin on the event. Also known for Jazz, Asagaya Jazz Streets comes in swinging with the mood of the fall season. The Asagaya Nomiya Festival is a biannual bar-hopping event that encourages trying out new places in the local area.
Asagaya Cuisine
Interestingly enough there are many sushi restaurants on the south side of the station, but what really sets Asagaya apart from the rest is its "wagashi", or, Japanese sweets. There are a few places where you can get something to eat while strolling the shopping street, like Tomoe-an with its bean paste taiyaki, or kakigori shaved ice in summer. Or, take a break and eat-in at Toraya-Chinzan or Chatoan.
Asagaya Shopping
The best souvenirs from Asagaya are of course the aforementioned sweets, with the famous "dorayaki" red bean paste pancake from Usagiya, or seasonal sweets from long standing shops like Hachinoki or Eitarou, where the sweets look as good as they taste. To compliment the sweetness, stop at Rakuzan for some of the best Japanese tea selections.
Asagaya Sightseeing
If you are in Tokyo during the cherry blossom season, Zenpukuji-gawa Green Park and the connected Wadabori Park along the Zenpukuji-gawa River offer one of the best sakura spots west of the Yamanote Line in Tokyo, and are noticeably less crowded than their famous counterparts. There are also some great shrines in Asagaya to enjoy the seasons among a traditional atmosphere. Also, while Asagaya is known from its Anime production studios, there are not a lot of anime related destinations, yet the "kawaii" garden-park designed by Studio Ghibli's Hayao Miyazaki offers a peaceful place for a Totoro-themed picnic.
Asagaya Music
While you may able to find some amazing jazz music at the Blue Note in Tokyo, here in Asagaya you get more of a local vibe rather than international artists with high-priced tickets. So if you are a jazz fan visiting Tokyo, Asagaya is calling you. Besides its annual jazz festival in the fall, there are still some small spaces that offer some great local jazz.
Asagaya Accommodation
Looking for a place to stay in Asagaya? You can't beat the Smile Hotel for convenience near JR Asagaya Station and the Star Road nightlife area. Route Inn is also a convenient choice if you prefer to be based on the Tokyo Metro subway line.
ASAGAYA MAP

[updated July 2021]