Ogikubo: Ramen, Anime, History, Classical Music
Ramen in Tokyo is often associated with Ogikubo in Suginami, mainly because the "Tokyo Style" soy sauce base ramen was invented here. As a result the area is filled with ramen shops, some of which offer competition with other styles as well.
Ramen is part of Ogikubo's history, and you can also learn about the history of Japanese animation at the Suginami Animation Museum. Classical music is also part of Ogikubo's history, as the famous Japanese music critic and musician, Motoh Otaguro, had his home here. Now the beautiful Japanese garden Otaguro Park remains where he lived, featuring one of the best autumn foliage illumination displays in west Tokyo.
OGIKUBO
A Brief History Lesson
According to a legend of Komyoin Temple, famous for its ringing temple bell for "Joya no Kane" on New Year's Eve, in the year 708 a devotee was carrying a statue of the thousand-armed deity Senjukannon and upon reaching the area it became so heavy that the devotee could no longer move it. Reasoning the location was fate, the devotee built a thatch hut over the statue out of the thickly growing Amur silvergrass ("Ogi" in Japanese) that was growing there and named it "Ogi Temple". Soon the area became known as "Ogikubo". The Ogi grass still grows by the pathway called "Ogi Komichi" along the rail tracks at Komyoin Temple, where you can also enjoy many seasonal flowers.
Of the 4 JR Stations in Suginami Ward, Tokyo, Ogikubo Station has the most traffic, yet beyond the immediate sprawl of department stores in front of the station, the Ogikubo area remains for the most part a peaceful residential area. From the Taisho era (1912-26) into the Showa era (1926-89) this was a place where wealthy people had vacation homes, with the slogan "Kamakura in the west, Ogikubo in the east" (*note, they are actually south and north). Famous businessmen, authors, musicians, and politicians took up residence here, including former prime minister Fumimaru Konoe and music critic Motoh Otagaro, whose homes are now time-capsuled on the sites of Tekigaisoh Park and Otaguro Park, respectively. In 1927, the "Asagaya Literaries" also changed their residence to the neighboring Ogikubo. Many longstanding soba shops still remain in the area from this time, including Honmura-an founded in 1924 and Harukiya Honten, opened in 1932, which also formed the standard of Tokyo style ramen. Many shops began to follow suit and soon the area became known for its Tokyo style ramen, with its "shoyu" soy sauce and "niboshi" sardine flavor base.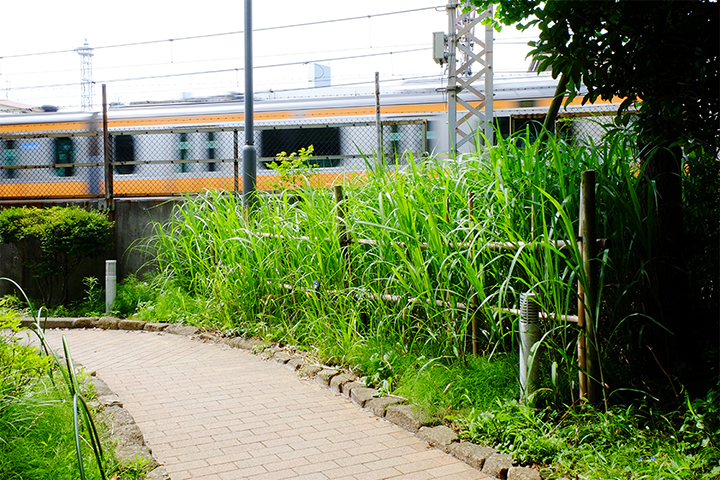 Getting to Ogikubo
From JR Shinjuku or Tokyo Station: Take the JR Chuo Line west (toward Mitaka/Takao) and get off at Ogikubo Station. It's about 10 minutes from Shinjuku (170 yen) and 24 minutes from Tokyo (310 yen).
You can also take the Tokyo Metro Marunouchi Line from Shinjuku to Ogikubo in about 14 minutes. The fare is 200 yen.
*Note that the Commuter Special Rapid does NOT stop at Ogikubo. Depending on the time you may also board a JR train that terminates at Nakano Station. In that case get off and wait for the next train.
Ogikubo Souvenirs
No souvenir could make more sense for Ogikubo than to take home some of its most famous ramen with you! Harukiya, Ogikubo's most famous ramen shop tied with the history of Tokyo style shoyu ramen, sells "Souvenir Chuka Soba" packs so you can make their ramen at home! Includes 2 servings of noodles, soup, and sauce for 660 yen.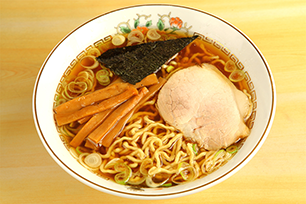 Ogikubo Areas
South of Ogikubo Station you'll find Nakadori Shotengai shopping street, with a clock on the archway entrance. This a good look into local shopping and food in Ogikubo. On the north side, Kyokai Dori shopping street is similar but with different selections of unique shops. For Ogikubo's nightlife, the Ginza area, though quite compact, is recommended for good eating and drinking until late.
Ogikubo Events
Events in Ogikubo have more of a refined vibe, from the majestic fall foliage illumination at Otaguro Park to the Ogikubo Music Festival, featuring classical music played at large and small venues all around Ogikubo. For more family-oriented fun, November's Suginami Festa showcases stage shows and a variety of food stalls with some fun games for the kids.
Ogikubo Cuisine
"Ogikubo" perhaps is not a name you have heard before, but in truth it is a place all ramen fans should know. There are many styles of ramen that have originated in different parts of Japan, but the Tokyo "shoyu" soy sauce style that became famous originated in Ogikubo, namely at Harukiya Honten in the 1930's. After that "Harukiya Chuka Soba" near the station opened, as well as many other ramen restaurants that cover all the other styles of ramen. Simply put, ramen fans shouldn't miss a visit to Ogikubo.
Ogikubo Shopping
Some of these shops in Ogikubo make for the best souvenir shopping along the Chuo Line. Japanese incense at Koju will delight with their traditional aromas. For select taste buds, Kyoto's sweets specialist Danki or Kobarisei Rice Shop are also worthy of a visit.
Ogikubo Sightseeing
In autumn, Otaguro Park is one of the best places to see fall foliage in Tokyo. For New Year's, Komyoin Temple is the temple from which Ogikubo supposedly gets its name, and is a great place to visit on New Year's Eve close to the Station. Chudoji Temple on the south side is also a good choice on New Year's Eve because, though it is a bit of a walk, they don't limit the number of people who can ring the bell. All year round the Animation Museum is free and a nice glimpse into anime history.
Ogikubo Music
With the Suginami Public Hall in Ogikubo serving as home of the Tokyo Philharmonic Orchestra and Otaguro Park being the ground of classical music critic Motoh Otaguro's former home, Ogikubo has quite a reputation for its classical music. The Ogikubo Music Festival takes place every November, and Mignon is among the last of the Classical Music Cafes playing classical records daily with monthly concerts. Gekkosha records has other genres as well, but their classical section is surely a nod to Ogikubo where it has been situated for 70 odd years.
Ogikubo Accommodation
What's your pleasure? A Japanese traditional style ryokan, a cozy stay in a modern capsule hotel, or a stylish business hotel? In any case, Ogikubo has you covered, and with easy access to both JR and Tokyo Metro lines at Ogikubo Station, convenience and peace and quiet are at your fingertips.
OGIKUBO MAP

[updated October 2021]