Koenji: Festivals, Vintage Clothing, Rock
Koenji may be best known for the Awa-Odori traditional dance festival in summer, but it also has Koenji Bikkuri Street Performance in spring, Koenji Fest in fall, and a traditional comedic storytelling festival (Engei Matsuri) in winter. Aside from these seasonal festivals, Koenji has made a name for itself through music and vintage clothing. Used clothing shops and music venues dot the area. In terms of music, Koenji is known for its Japanese punk rock history and for its underground and experimental sounds. Today there are still a large number of record stores. Koenji also has many bars and restaurants. The youth culture here is thus quite substantial, yet on the other hand Koenji is known for its many temples and shrines. Surely Koenji has something for everyone.
KOENJI
A Brief History Lesson
Though famous in recent decades as a counterculture and "subculture" area that gave birth to unique fashion and Japanese punk music, Koenji takes its name from a historical temple among its grounds. Shukuhozan Koenji (simply referred to as "Koenji Temple" these days) was founded in 1555, the first year of the Koji era in the late Muromachi period. In the Edo Period (1603-1868) the area was used as falconry grounds, and the 3rd Shogun of the Tokugawa dynasty, Tokugawa Iemitsu, used to stop by the temple on hunting trips. At the time Koenji Temple was located in an area once called Ozawa Village, but it is said that due to the shogun's influence visiting Koenji Temple it became known as Koenji Village instead. The stone torii gate at Koenji Temple features carved dragons, a rare feature that is worth seeing. The walk up the main path to the temple is one that will calm the mind and the senses, with its fresh verdant green in summer and colorful foliage in autumn.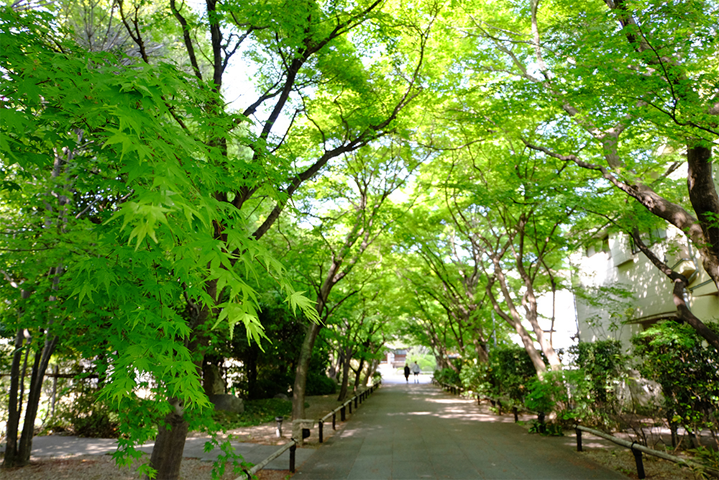 Getting to Koenji
From JR Shinjuku or Tokyo Station: Take the JR Chuo Line west (toward Mitaka/Takao) and get off at Koenji Station (JC07 or JB06). It's about 7 minutes from Shinjuku and 20 minutes from Tokyo.
*Note that the Chuo Line (orange) does not stop at Koenji on Weekends, so you will need to take the Chuo Sobu Line (yellow) instead.
*Also note that other than the regular "Rapid" Service, other Chuo Line trains (Special Rapid, Comuter Special Rapid, etc.) do NOT stop at Koenji. Depending on the time you may also board a train that terminates at Nakano Station. In that case get off and wait for the next train.
Koenji Souvenirs
Koenji has also been referred to as "The India of Tokyo" with its bohemian culture and vintage wares. For a souvenir, you can pick up the Koenji Mascot Psyche Delhi-san's special gravy beef curry at Village Vanguard.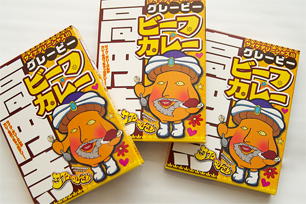 Koenji Areas
Koenji's main areas are its many "shotengai" shopping streets, each with a different vibe and culture, and usually great for cheap shopping. Look Street, Pal Street, and Etoile Dori Street are especially good for vintage clothes shopping. Not tied to one specific road, the Southeast vintage clothing area also has an overflowing number of shops. The area under and along the tracks west of the station is Koenji's bar and nightlife area, and on the other hand you can find a peaceful area south with Koenji's many temples. Visit Daiichi Ichiba food court for an international bite to eat.
Koenji Events
Koenji has events for all 4 seasons. Summer brings one of the most popular events in all of Tokyo, the Koenji Awa-Odori Festival. Based on the traditional dance event from Tokushima, the Koenji version began in 1957 and started with only 38 dancers, but nowadays has over 10,000 dancers and musicians parading the streets with 1 million viewers over the 2 days every year. Fall's Koenji Fest, Winter's Engei Matsuri, and Spring's Bikkuri Street Performance Festival are the other exciting events that round out the roster in Koenji.
Koenji Cuisine
While Koenji doesn't have a specific style of food that it is famous for like the other areas in Suginami along the Chuo Line, it is more known for its Southeast Asian vibe from Daiichi Ichiba food court and overall international tastes. Koenji's most famous restaurant may very well be Tensuke, a Tempura shop with an entertaining owner who does a bit of a performance when he makes his famous egg tempura. Tensuke gets visitors from around the globe. Additionally, the night life scene in Koenji showcases lots of great places to have a drink and enjoy izakaya food such as yakitori, fried foods, and more. There are also many popular ramen shops such as Jagura and Taiyo. For coffee and sweets, head down Look Street for many options, including the best of both worlds at Coffee Cone.
Koenji Shopping
Shopping in Koenji is all about used clothing stores and vintage fashion. These may include cheap secondhand clothing shops like The Gate to the best of the best sought after vintage items that you will pay top yen for at Safari, and everything in between. There are accessories specialty shops, hat specialty shops, and anything you can think of, even original remakes that can be found at the famous Kitakore Building where US celebs such as Lady Gaga have visited. The selection here is just a taste from among hundreds of shops from what Koenji has to offer, so see our Vintage Clothing District guide in the Maps and Info section for full info. For seekers of Tokyo fashion and pop culture with a vintage twist, Koenji is your place.
Koenji Sightseeing
Going past the subculture and into the history of Koenji, sightseeing spots include a variety of temples and shrines. Of course, Koenji Temple is the origin of the area's name, but many old temples remain in the area, and many are clustered in the Temples Area. Hikawa Shrine also contains the "Kisho Jinja", the only shrine in Japan that worships a weather deity, so people come here to pray for good weather. In addition to temples and shrines, Koenji Chuo Park is often said to be the inspiration for a location in one of Haruki Murakami's novels.
Koenji Music
Koenji's music scene has become the stuff of legend, and has found its way into several books, magazines, and fan zines about underground music around the world. In the 60's and 70's it was a center of counterculture and in the 80's where Japanese punk emerged, and from the 90's onward best known for its experimental sounds including noise and avant-garde styles, as well as punk, metal, etc. Not much has changed, and many "Live Houses" (the Japanese term for music venues) still dot the area. Many musicians also reside in Koenji, and you'll see them walking around or performing in the streets at all hours. There are also a lot of good record stores remaining, so this is one of the "it" spots for record shopping in Tokyo.
Koenji Accommodation
Koenji has some great hotels near the station for more comfort and more price, but also offers an outstanding selection of low-budget dorm style and private room guest houses, so Koenji alone can suit all preferences and budgets. There is even an art hotel, BnA, where you can stay in one of two rooms that support the concept of staying inside a work of art!
KOENJI MAP

[updated March 2023]