Name:

Matthew Chozick
Profession:

TV and film star, professor, writer, publisher
Birthplace:

Connecticut, USA
Current Residence:

Suginami, Tokyo
Web Site:

http://www.matthewchozick.com/ (external link)
INTERVIEW WITH MATTHEW CHOZICK (JAPANESE TV/FILM ACTOR & MORE)
Matthew Chozick carved a niche for himself in the Japanese entertainment industry with his advanced Japanese skills and ironic, self-effacing humor. Since 2012 he has been best known for weekly appearances on the Japanese comedy-variety show "Sekai Maru Mie! Terebi Tokusôbu." Chozick is also a film actor, scriptwriter, founder of a publishing company, and a professor at Temple University Japan Campus. We sat down with Matthew at one of his favorite Suginami restaurants to find out how he began his journey in Japan, and where it has taken him.
Experience Suginami Tokyo: How did you first get interested in Japanese culture?
Matthew Chozick: In the early 1980's, before sushi or ramen were big in America, my culinary crusader of a grandmother insisted in her home that, for health reasons, we eat a Japanese diet. Local grocers didn't yet sell East Asian foods in my little hamlet, so to stock up on them we'd drive to the house of a Jamaican woman who imported Japanese ingredients. In the woman's kitchen, we'd buy supplies and she'd regale us in a charming accent with stories about the Japanese culture and diet; I always wanted to hear more.

Years later my interest in Japan was further amplified through film. When I was about sixteen, by chance, a local movie theatre screened Masayuki Suo's "Shall We Dance?". The comedy offered a more subtle and nuanced social commentary than I was accustomed to with Hollywood. I wanted more! Luckily, around this point in the mid-1990s, Quentin Tarantino had set up a distribution company for Asian cinema within Miramax. I could rent movies like "Sonatine" by Takeshi Kitano, whom I deeply admired — I never dreamt that the two of us would collaborate on a weekly basis.
EST: You chose to live in Suginami, is there any reason that you like this area?
MC: I fell in love with Suginami on my first trip through it. The neighborhood is charmingly subversive, down-to-earth, and brimming with creatives who keep the bar high. There's also really good vegetarian food!
EST: How did you become a Japanese TV personality? Was it something you had wanted to do before coming to Japan?
MC: I hadn't planned on becoming a TV personality. My original plan was to be an expat author, like some of my heroes growing up, and also to work as a literature professor. I've enjoyed some luck attaining those goals, but I never anticipated a parallel career on TV. Out of the blue, in 2012, a producer at Nippon Television scouted me. At the time, I'd been moonlighting in Japanese theatre — doing some acting and script writing — while publishing in Japanese magazines and newspapers. My writing already had a quirky, mischievous voice, which I'd been cultivating, and that probably helped me be tolerable on TV.
EST: As a foreigner in Japan, the work culture must be different from your home country. Could you tell us what hurdles you had to overcome?
MC: With creative work, in either country, if you want to be any good you'll need to slog out long hours with little prospect of affluence or stardom. Sensible people will quickly lose hope and they skedaddle. That attrition provides those who keep at it with an increased chance of finding a niche if they put out decent work, hone their craft, and act with consideration towards others.
EST: Is it easier to enter Japanese entertainment being a foreigner?
MC: Yes and no. The relative number of foreigners in Japan is increasing. That is both good and bad for hopefuls in the "biz." What's good now is that there's arguably more demand for media diversity. The flipside is that, since foreigners are no longer a novelty, free passes have disappeared. Entertainers are expected to compete on even keel, regardless of nationality, and that means expectations are high.
EST: What advice do you have for readers who also have the dream to enter Japanese entertainment?
MC: One-size-fits-all advice is difficult because no two people seem to enter the industry in the same way. However, what most initially share is some kind of lucky break. If you want to court luck with any statistical advantage, you ought to frequently put yourself out there. You also should aim for one of the best talent agencies, which requires a high level of Japanese literacy.
EST: How did you master Japanese? Do you have any tips for those studying the language?
MC: I learned the language by reading lots of untranslated novels, watching films, arranging Japanese homestays in America, doing daily language exchanges, taking classes, and using spaced repetition learning software. If you're interested in the specific tools and strategies that helped me progress from beginner to advanced in a relatively short amount of time, please read this article that I wrote about the topic: https://www.tofugu.com/japanese/japanese-learning-stack-matthew-chozick/
EST: Can you tell us about any of your future plans?
MC: Later this year I'm looking forward to releasing a memoir from a Japanese publisher. The project's been a lovely but harrowing opportunity for self-psychoanalysis. After the book's out, I plan to finish a movie script that I've been flirting with and then to publish a multilingual anthology of Japanese literature for university classes. Other than that, in the future I'd be very grateful if I'm able to continue doing the sort of thing I am now. And it'd be nice if I can stay in Suginami!

[updated June 2021]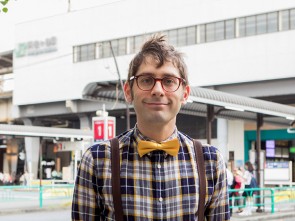 Matthew Chozick in Asagaya, one of his favorite Tokyo neighborhoods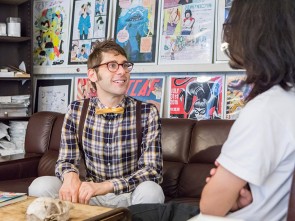 Chatting with Saito-san, friend and owner of Hakusen Gallery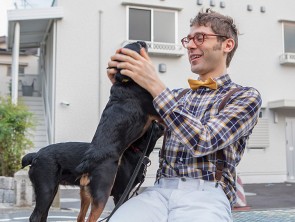 A friendly encounter with local "wan-chan" during a Suginami stroll
An avid reader, Matthew browses at Indigo Books in Koenji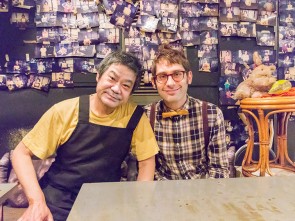 With the friendly owner of Bamii Asia in Koenji