Name:

Kayoko Suzuki
Profession:

Ogishi (fan maker)
Birthplace:

Taito, Tokyo, Japan
Current Residence:

Miyamae, Suginami, Tokyo
Web Site:

http://junsendo.net/ (external link)
INTERVIEW WITH KAYOKO SUZUKI (FAN MAKER)
Kayoko Suzuki is an Ogishi, a traditional Japanese folding-fan maker. She is the second-generation master of her fan making studio, Junsendo, where she makes fans the traditional way with some updated technology to stay current and open new possibilities to this old art.
We at Experience Suginami Tokyo heard out about her specialty studio right here in Suginami, so with her enthusiastic cooperation we had a discussion about the rarity of the art in today's society as well as the history and future of Junsendo.
Experience Suginami Tokyo: Thank you for taking the time for this interview. First off, could you tell us about the history of your fan making studio, Junsendo?
Kayoko Suzuki: Yoshihisa Uchida, my father, started the fan making business in Negishi, Taito Ward, in 1960 and moved here in Miyamae, Suginami in 1965. Since then, we have been continuing the production of fans on order and sale for about 60 years. At present, I have taken over from my father as the second master.
EST: We understand that there are two types of fans, one is from Kyoto and the other from Tokyo. What are the main differences between these two types of fans?
KS: Kyoto fans are elegant, reflecting Kyoto's graceful culture, whereas Tokyo fans, more commonly called "Edo fans", use thicker paper and are larger in width when spread out. Also Edo fans use fewer bamboo "bones" and are sturdier than Kyoto ones. Edo fans are also famous for their fashionable atmosphere, and the process for making them is also different. The process of making Kyoto fans is divided into different artisans. On the other hand, Edo fans are usually made by a single fan maker, or in the same atelier. Therefore, the quality of the Edo fans depends greatly on the skills of one artisan.
EST: Does that mean you yourself paint the picture on the fan, as a Tokyo fan maker?
KS: Sometimes I paint designs myself, but painting is usually done by a specialist in the same atelier. We have a painter who does the more intricate painting. The design is the most important part of fan making, so we always take utmost care in painting. Recently computers have been introduced to the painting process, and in my studio my brother-in-law, who is my apprentice, makes pictures for fans using computers. We cannot only select various colors but also add subtle taste to the colors by using computers, and because of this mass production has become possible. I suppose computers will be used much more in the near future, even for traditional crafts like this.
EST: When did you start making fans?
KS: I studied life design at Joshibi College of Art and Design, and after graduation I got a job at a pottery school. Once my daughter grew up I had more free time to do something worthwhile. When I saw my father making fans, I realized that fan making was a very interesting job, and also good because I could work at home. I had always been interested in my father's work since I was a child, so one day I asked my father if he could teach me the art of fan making. He used to say that fan making was a man's job, so at first he refused to teach me. However, I asked him earnestly and he finally allowed me to learn his craft. Unexpectedly, I learned the art rather quickly, I suppose it is because I had observed my father's work closely since my childhood. To my surprise, someone purchased the first fan that I made. It was used for a display at a store. Then I was determined to do this job seriously. I know there's still a lot to be learned, and I think fan making is a worthwhile job because it can be very rewarding to produce good pieces that get used or displayed.
EST: Are there a lot of female fan makers like you?
KS: At one time there were a decent amount of female fan makers, but now there are very few. Fan making requires a lot of strength, and so men are considered to be more suitable for the work, as my father had said. However, I feel that women as well are suitable for the work in that they are usually more sensitive to the design. Also most of our customers are women so female fan makers can understand these customers' tastes better than men can. Nowadays, there are many devices available that lessen the difficulty of the making process, so we woman fan makers have fewer handicaps than we did before. I myself have developed a lot of devices to make my work easier. I hope that more women will try this art.
EST: Various Japanese traditional arts are slowly disappearing. What is the present situation of fan making?
KS: Fan making in Japan has always been greatly influenced by China, and nowadays China mass produces fans much more cheaply. Also since no unions have been founded in Tokyo, it is more difficult for this business to prosper. Despite these difficulties I have tried hard in this business so as to succeed my father's work and to pass it on to the next generation. For instance, we have completely renewed our website in order to spread our work globally. Japanese things have recently attracted a lot more people from other countries, and because the Tokyo Olympics and Paralympics will be held in Tokyo in 2020, this interest continues to increase. I hope it will be a great opportunity to let people from around the world know about the charm of traditional Japanese fans.
EST: What types of fans do customers want to buy nowadays?
KS: There are basically two types of customers. Some people like fans with simple and refreshing beauty, and others prefer fans with somewhat classical design that look a little old. I always try to make fans that reflect these trends.
EST: One of the problems in passing down traditional Japanese crafts and culture is that there are always so few successors. Do you by chance have the same problem?
KS: My daughter Yukari is going to work at my studio. She is very good at computers and has a remarkable sense as a fan maker. My cousin is also joining our studio as well, so it appears as though Junsendo fans will have a very bright future. We will do our best to pass on this art.

[published February 2018]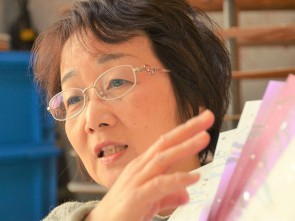 Kayoko Suzuki-san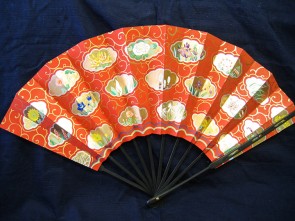 A sensu folding-fan made for traditional dance by Suzuki-san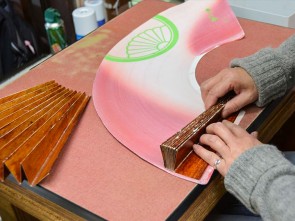 The earliest stages of the fan, before the paper is folded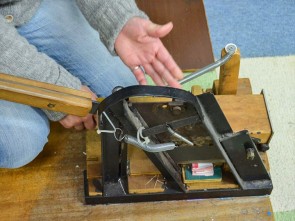 Many specialized tools, like this cutter, are made for specific tasks in the fan making process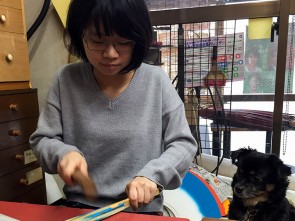 Daughter Yukari, with dog Chibo looking on, is learning the traditional craft