Name:

Masahide Sakamoto
Profession:

Wagashi Artisan and Teacher
Birthplace:

Bunkyo, Tokyo
Current Residence:

Asagaya, Suginami, Tokyo
INTERVIEW WITH MASAHIDE SAKAMOTO (EITAROU)
Eitarou is a long-standing Japanese sweets (wagashi) shop in the Asagaya Pearl Center. Run by 3rd generation owner/wagashi master Masahide Sakamoto, this is a place where you can buy traditional wagashi, and even take a wagashi workshop from Sakamoto-sensei himself at reasonable cost. We took a lesson from him and chatted over some sweets about his craft (the interview has been translated from Japanese to English).
[published June 2019]
Experience Suginami Tokyo: Thank you for your time, it is great to talk to you. A little about the history of Eitarou, when did it first open? Has it always been at this location?
Masahide Sakamoto: I am the third generation of Eitarou, a Japanese sweets shop that my grandfather began in Haruki-cho in the Bunkyo Ward of Tokyo. My father succeeded as second generation, and I had to take over early at the age of 18. We opened at this Asagaya location in 1958.
EST: Asagaya has many long-standing Japanese sweets shops, even just in the Pearl Center. What would you say sets Eitarou apart from the others?
MS: We have always been trying to make our shop familiar with the people living around Asagaya. Our shop is perhaps most unique in that we have a very strong emphasis on making different kinds of sweets that reflect the four seasons.
EST: On to the history of your craft, could you briefly explain about the history of wagashi?
MS: Well, essentially wagashi as we know it today began in the Edo Period around 1800, when sugar became common around Japan, after the Dutch first introduced white cane sugar to Japan. Until then, sweets were mostly soy based (using soy sauce and miso paste) and were thus actually more salty snacks rather than sweets. Japanese tried mixing sugar with azuki red beans and found that the sweet beans complimented bitter green tea very well, and that was really how wagashi took off. At first the sweets were dried and hardened to last longer and be used as souvenirs, but the soft anko bean paste became popular as it could be made into any shape, and finally making sweets based on the seasons became the tradition.
EST: How did you go from making and selling wagashi to also teaching the art of wagashi?
MS: I thought that if customers themselves made beautiful Japanese sweets that they would be able to appreciate the beauty and taste of wagashi more. The customers who took part in my first lesson enjoyed the lesson much more than I had expected, so I decided to continue the lessons.
EST: It seems you have taught many lessons to foreign people over time. When did you first realize foreign people were interested in the art of Japanese sweets?
MS: At first, I began the lessons only for Japanese customers, but eventually foreign people must have heard about my lessons, probably through word-of-mouth and information on the internet/social media, and started to join the lessons. I am very pleased that foreign customers have taken such a great interest in the art and beauty of wagashi.
EST: Since you only teach in Japanese, have any of your foreign students struggled to understand the content?
MS: They don't seem to have any troubles even though I speak only Japanese. Since the art is very visual, they seem to have no problem just following along and imitating what I am doing. For large classes (usually held outside the shop) sometimes an interpreter joins as well (provided by the group).
EST: Besides the language barrier, what are some other difficulties that students may have trying to make Japanese sweets for the first time?
MS: Some techniques can be a bit difficult, but for those more difficult techniques I always have them do a practice run using practice bean paste so they don't ruin what they are working on; that way they can apply the technique when they feel comfortable. If students still have some trouble, of course I will help them and we work together so they can complete the piece.
EST: It's commonly said that foreigners (especially Westerners) are turned off by the idea of sweets made from beans. Have you had any experiences with this?
MS: That is often said, but as far as my experience goes most of the foreigner people joining my lesson don't seem to have a problem with it. Perhaps they have already tried it before coming and enjoyed the taste or became accustomed to it. Even so, it is possible to learn making the sweets without eating them!
EST: What are some things you hope your customers or students can experience or learn about wagashi?
MS: I want them to know the pleasure of using their own palms and fingers to make wagashi. Also, I would like them to be able to appreciate the beauty of the four seasons of Japan while making the sweets.
EST: What does the future hold for Eitarou and your wagashi lessons?
MS: I hope to continue to put in every effort to make very good wagashi. Also I would like to make Japanese sweets that go well with coffee or black tea, in addition to the traditional green tea or matcha combination. I also want to continue to think of new ways to make wagashi with simple tools that you can find in your kitchen or home. I hope to see you for a lesson soon!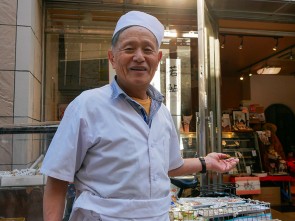 Masahide Sakamoto-sensei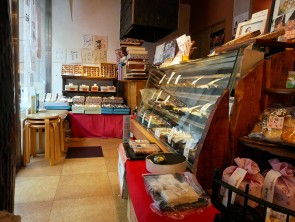 Eitarou is a Japanese sweets shop, opened in Asagaya in 1958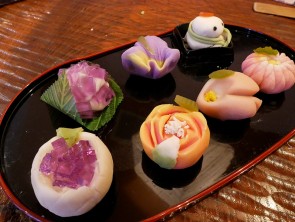 Japanese sweets handmade by Sakamoto-sensei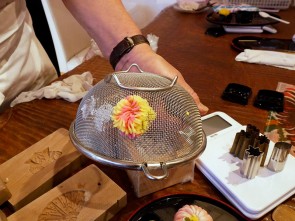 Various household tools are used to express a variety of themes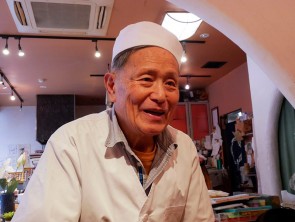 Sakamoto-sensei enjoys teaching the art of wagashi