INTERVIEW WITH AYANO SAGAWA (KIRI-E PAPER-CUTTING ARTIST)
Japanese art and traditional crafts have a large number of exquisite works of art since ancient times, and one reason may be because many Japanese people tend to have dexterous fingers, however there are certainly other factors relating to the Japanese aesthetic.
In Suginami Ward, Tokyo, there are also many artists working in various arts such as urushi (Japanese lacquerware), Buddha figure sculpture, and tezuma (Japanese traditional hand magic or sleight of hand).
This time, we interviewed Ms. Ayano Sagawa, an intricate kiri-e paper-cutting artist whose exquisite works using washi paper are very popular. We asked her about the charms of kiri-e, a traditional Japanese art rather unknown in the Western world, and her thoughts on creating her unique works.
[published June 2022]
Translation: Y. Ikeno

Experience Suginami Tokyo: Thank you for your time! We are very interested in hearing about your art. When and why did you start kiri-e paper-cutting?
Ayano Sagawa: I started kiri-e paper-cutting when I was in junior high school. I had always wanted to be a printmaker and studied printmaking in college. However, in 2009, after graduating from college, I began to work with kiri-e more seriously. I got back into kiri-e because I found I was able to use my hands more freely when I work with kiri-e than with woodblock prints.
EST: What are some of the characteristics of your kiri-e?
AS: There are two main characteristics of my kiri-e. The first is that I express a variety of colors by using washi, Japanese handmade paper. This is because my professor taught me the appeal of washi when I was in college. I use washi in my works, because light can more easily pass through it, giving a kind of stained glass type effect, which I really love. Various types of washi paper are produced in many parts of Japan. By using washi in different ways, the color variations increase. The second characteristic of my kiri-e is a feminine design. When we think of Japanese kiri-e, we tend to associate it with a masculine or classical image. However, I incorporate motifs like fairy tales in my kiri-e, and I try to create works with feminine and detailed expressions.
EST: You started your own brand, "Rikuli". Could you please tell us about it?
AS: In 2012, I decided to do something new that other artists were not doing with kiri-e, and started a brand of accessories using kiri-e. The name of the brand is "Riculi". The name "Riculi" is derived from the Japanese four-character term, "kosai rikuri", which means a beautifully intermingled and dazzling display of light. Rikuli accessories are made with kiri-e that have been hardened with resin to give them strength. Many customers do not realize this fact. Therefore, I had a very hard time convincing them that the accessories were made with kiri-e! However, through this brand I really wanted to expand the world of kiri-e. As a result, my efforts led to the publication of a book about kiri-e.
EST: You often post on social networking sites. Could you tell us about your social media usage?
AS: Yes, I widely share the process of making kiri-e on social media. The social networking services I use are Twitter, Facebook, and TikTok. I believe that creators should actively participate in new media, because I think it is important for creators to meet new people by participating in various social media.
EST: You use the new kiri-e technique, "color kiri-e". What is the reason you have adopted the technique?
AS: I believe that the charm of kiri-e is still untapped, and in my book published in 2020, I proposed a new kiri-e technique called "color kiri-e." In the traditional kiri-e, mainly black paper is used for a silhouette effect. For "color kirie", however, I use various colored paper. I believe that this technique has opened up a new world of kiri-e.
EST: Your studio is in Nishi-Ogikubo. Could you tell us why you chose Nishi-Ogikubo? And lastly, could you tell us about your upcoming endeavors?
AS: Since 2018, I have been based in Nishi-Ogikubo in Suginami Ward, Tokyo, for my activities. Nishi-Ogikubo is a comfortable town to live in, and here I can meet people from all walks of life. It also has a lot of artists and galleries. My current dream is to hold a solo exhibition in Nishi-Ogikubo.
Workshops are currently limited to women. Foreign residents are also welcome to attend, but be sure to check the schedule in advance.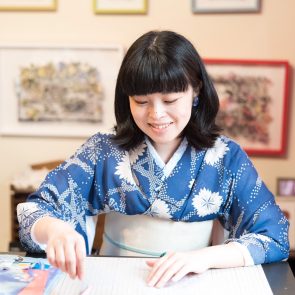 Kiri-e Artist Ayano Sagawa,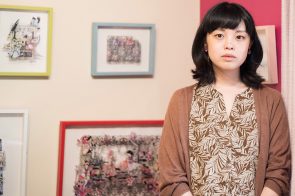 The young artist displays her framed works at a galleries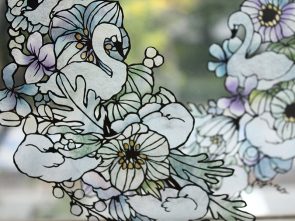 An example of Sagawa's detailed work and original paper-cutting methods using color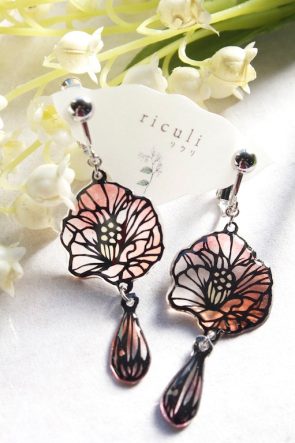 Through her brand Riculi, Ayano Sagawa sells unique accessories and more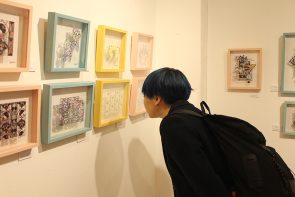 Ayano Sagawa's intricate works can be explored up close in a gallery setting