SUGINAMI SUMO WALK (Asagaya)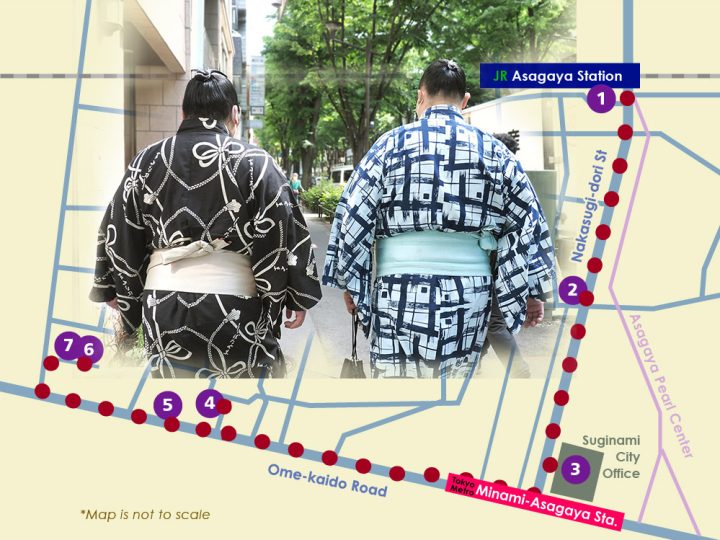 SUGINAMI SUMO WALK (Asagaya)
[published September 20, 2022]
Introduction
When thinking of Japan, many people think of sushi, anime, and various martial arts figures such as samurai, ninja, and sumo.
While samurai and ninja have essentially become martial arts of the past which only exist in anime and movies today, sumo remains culturally significant in Japan as the favorite traditional sport, as well as a spiritual and cultural practice that connects present day Japan with its long history.
Before walking with sumo wrestlers of Suginami, first we went to the Kokugikan sumo stadium in Ryogoku to get a first-hand glimpse of some matches, including with some of the wrestlers we would meet a week later.
Sumo History From Ryogoku to Suginami
Ryogoku is the most well-known place for sumo because of the Kokugikan stadium, but the stadium burned during World War II, and the majority of the surrounding sumo practice stables were also destroyed by 1945. As a result, many of the sumo wrestlers that were living at the stables in Ryogoku escaped the area during the war and a group of them began to live at Shinseiji Temple in Umezato (South Koenji), Suginami, after being introduced by a sponsor living in Suginami. There were already sumo stables in Suginami before the war, but since the amount of sumo wrestlers in Suginami increased during and after the war, so did the number and sumo-beya, or sumo stables.
Asagaya, one of the 4 main areas in Suginami on the Chuo train line, has a lot of sumo history. The rikishi (sumo wrestlers) used to parade through the Asagaya Pearl Center shopping street to celebrate their victories. There were also some well-known sumo-beya located in the area. Two such famous sumo-beya were Hanakago-beya and Hanaregoma-beya, located in the southern part of Asagaya, the sites of which we visited on our walk with some rikishi from the area.
A Rikishi Walk Through Asagaya
In Japan, sumo tournaments take place in specific seasons throughout the year, and essentially go on tour through the main sumo stadiums in the county. The Tokyo stadium is the Kokugikan in Ryogoku, but there are sumo-beya, or sumo stables, all around the city where sumo wrestlers practice throughout the year. Asagaya in Suginami, Tokyo, has a rich sumo history with some of these sumo-beya, but you can't really notice this history unless you know where to look. Luckily, we had 2 of the best guides we could have asked for this journey: 2 rikishi, or sumo wrestlers, from the Shibatayama-beya in Suginami, Hamadayama and Shoketsu.
We had the pleasure of watching their winning matches at Kokugikan the week prior. Hamadayama is a younger sumo born and raised in Suginami (he is named after the Hamadayama area), and Shoketsu is a veteran sumo wrestler who used to practice at a former Asagaya sumo-beya.
Together we visited that sumo-beya location as well as some others along the way, including a few places where it would just be fun for a couple of sumo wrestlers to indulge.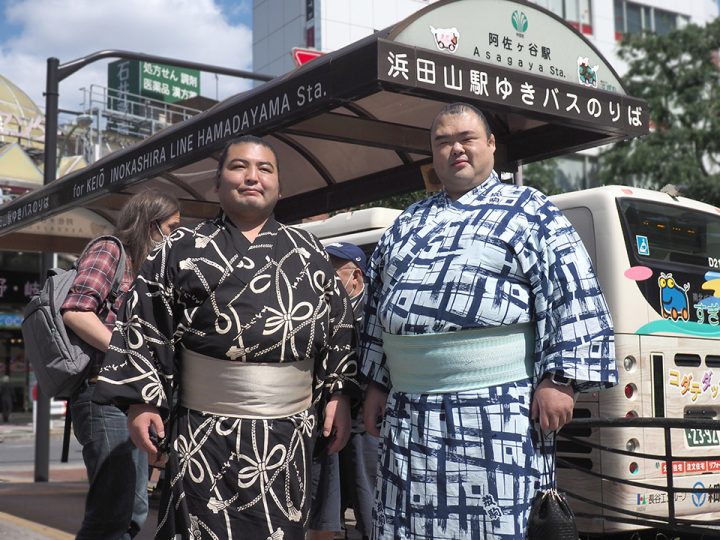 ASAGAYA STATION
We met Hamadayama and Shoketsu at Asagaya Station, celebrating it's 100-year anniversary this year. From Asagaya Station there are several routes of exploration one could take. The covered Pearl Center shopping street starts from there, and the tree-lined Nakasugi-dori Street also is a good walking route. We headed south on Nakasugi-dori.
Address:

3 Chome-36-2 Asagayaminami, Suginami City, Tokyo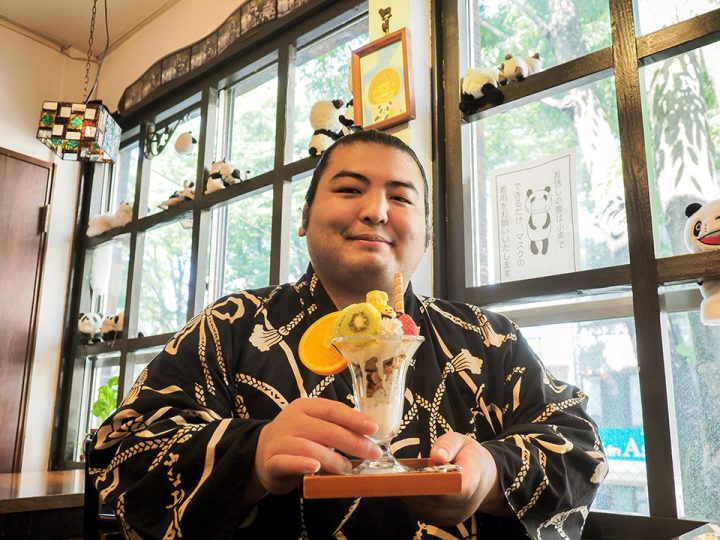 PANDA COFFEE
The first place we stopped at was Panda Coffee, a cafe simply overflowing with a panda theme. Have you ever seen large sumo wrestlers eating cute panda-themed sweets with panda latte art? Well, this is your chance. It was an interesting scene, and both Hamadayama and Shoketsu enjoyed the panda offerings from there.
Address:

3 Chome-31-14 Asagayaminami, Suginami, Tokyo
Distance from Station:

4 minutes from JR Asagaya Station (South Exit)
Phone:

03-3393-5077 (Japanese only)
Open:

11:00am - 9:00pm/ closes at 7pm on weekends and holidays, closed on Wednesdays
Website:

http://pandacoffeeten.com/index.html (external link)
Communication:

Staff speak Japanese only; English menu available.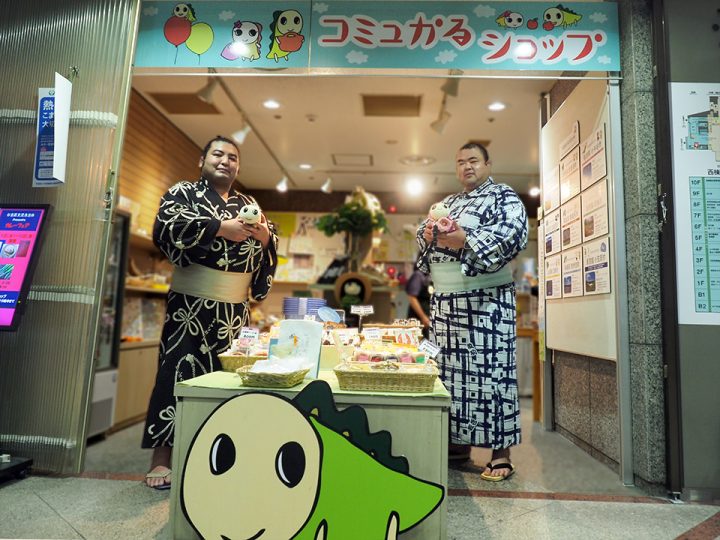 COMMUCUL SHOP
Following the previous theme of sumo wrestlers with cute panda goods, we couldn't resist the idea of going to the Commucul Shop in the Suginami City Office to look at the official Namisuke character goods. Here they checked out the various items from other regions in Japan that Suginami has cultural exchange with ("Commucul" stands for community-culture) and posed with Namisuke and Nammy stuffed animals for good measure.
Address:

1 Chome-15-1 Asagaya-minami, Suginami, Tokyo
Distance from Station:

1 minute from Tokyo Metro Minami-Asagaya Station, 10 minutes from JR Asagaya Station, South exit
Phone:

03-3312-2111 ext.2127 (Japanese only)
Open:

9:00am - 4:30pm on weekdays (Closed on Saturday and Sunday)
Website:

https://suginami-kouryu.org/shop.html (external link)
Communication:

English Speaking Staff available.
no-smoking
no-credit-card
disable-access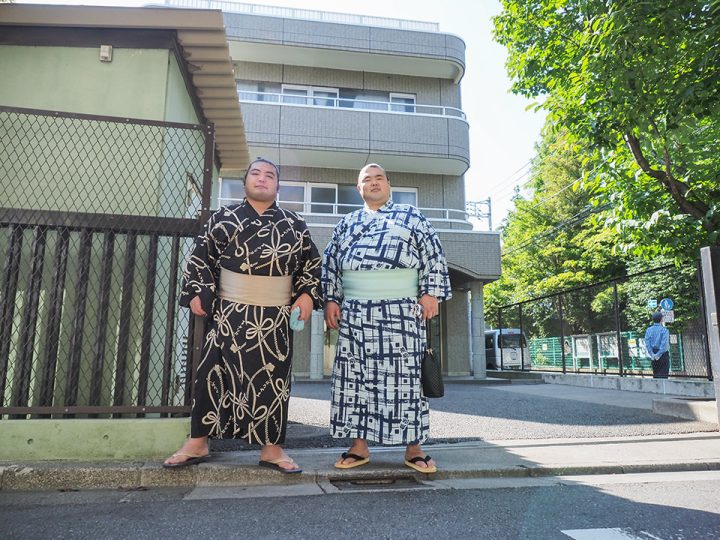 FORMER HANAKAGO SUMO STABLE
As part of the sumo history on this journey, we came to a place that was a former sumo-beya, Hanakago-beya. This sumo stable was established in 1929 in Ryogoku, and moved to Suginami in 1937. Currently it serves as the location for Japan University's sumo club.
Address:

3-Chome-10 Asagayaminami, Suginami City, Tokyo
Distance from Station:

10 minutes on foot from JR Asagaya Station, 7 minutes on foot from Tokyo Metro Minami-Asagaya Station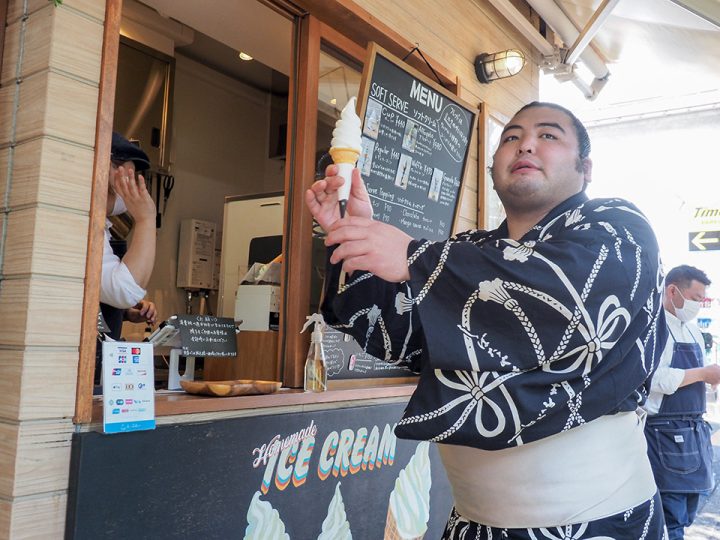 MIYANO DAIRY
With all that walking under the sun, we were all quite hot. We suggested a nearby dairy shop that is well known for its fresh soft serve ice cream to Hamadayama and Shoketsu, and of course they jumped at the chance to get some and cool down. A little pressed for time, we thought we would walk and eat, but it is against sumo rules, especially during the pandemic. Sumo wrestlers are ambassadors for their sport and culture, so they always follow rules closely and are very careful not to project a harmful appearance. Luckily, Miyano has an eat-in space where they could enjoy the fresh soft serve, and the owner even came out to greet the well-mannered rikishi.
Address:

3 Chome-10-3 Asagayaminami, Suginami City, Tokyo
Distance from Station:

10 minutes on foot from JR Asagaya Station, 7 minutes on foot from Tokyo Metro Minami-Asagaya Station
Open:

Weekdays 11:00am - 6:00pm, Sat, Sun & Holidays 11:00am - 6:30pm
Website:

https://homemilk.co.jp/softcream/ (external link)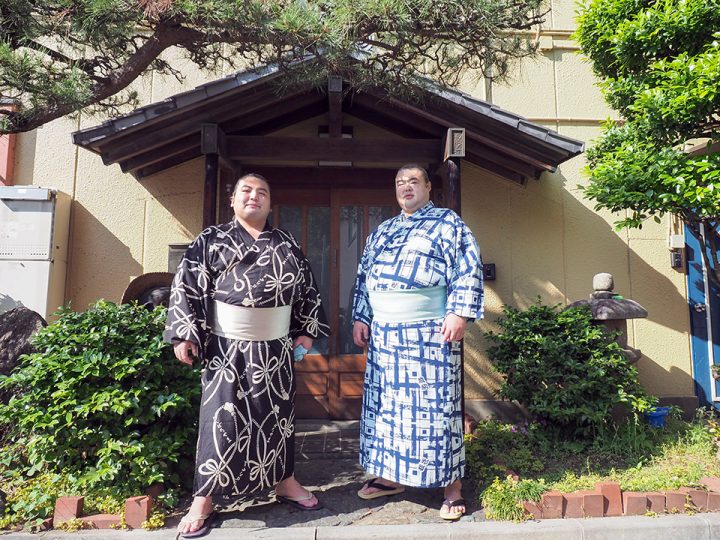 FORMER HANAREGOMA SUMO STABLE
Hanaregoma-beya is the former sumo stable where Shoketsu practiced for many years until it closed down, whereupon he transferred to Shibatayama-beya. He told us he could remember clearly being in the same location outside the entrance doing his weight training. It was a very nostalgic location for him, but it didn't end there.
Address:

3 Chome-12-7 Asagayaminami, Suginami City, Tokyo
Distance from Station:

11 minutes on foot from JR Asagaya Station or Tokyo Metro Minami-Asagaya Station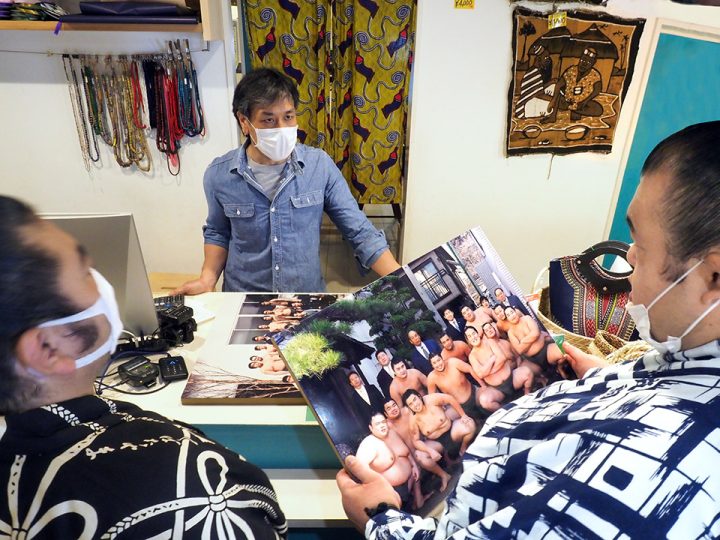 BOGOLAN MARKET
This is an African goods shop, situated in part of the building that used to be Hanaregoma-beya. The owner is the former stable master's son, Nishimori-san. When we asked how he started such a shop in this former sumo-beya, he remarked that he was into African drums as a hobby, and his interest just kind of took off from there. He has an amazing collection of authentic African goods that will have you in awe. Not to be fully disconnected from the past of the place, he also had photos and relics from the time as a sumo-beya, and he and Shoketsu reminisced excitedly.

While taking in the history of sumo in Asagaya, we hope you can also enjoy some of these select locations while walking through the area!

*Historical Data referenced from the Suginami Sumo Locations Exhibition Booklet from the Suginami Historical Museum.

Writer: Greg
Photographer: Mark
Address:

3 Chome-12-7 Asagayaminami, Suginami City, Tokyo
Distance from Station:

11 minutes on foot from JR Asagaya Station or Tokyo Metro Minami-Asagaya Station
Phone:

03-6279-9465 (Japanese only)
Open:

12:00pm - 7:30pm, Closed Mondays and sometimes irregularly
Website:

https://www.bogolanmarket.com/ (external link)