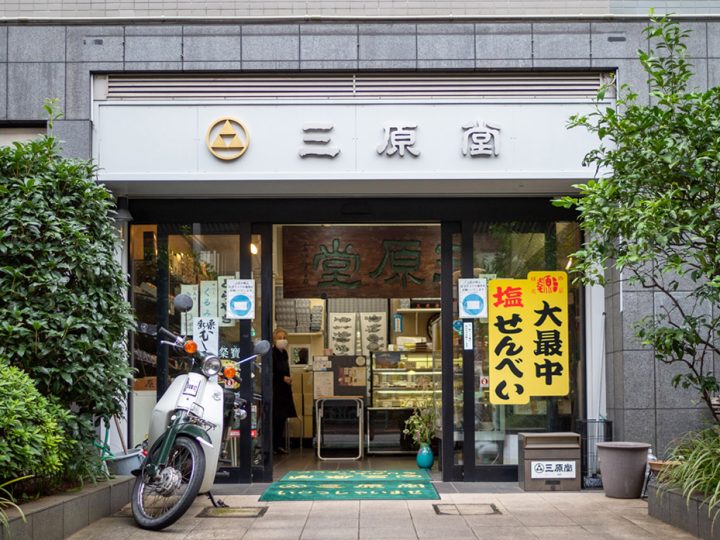 INTERVIEW WITH LONG-STANDING JAPANESE SWEETS SHOP MIHARADO
Sweet Traditions
Japan is home to a number of "Shinise" (long-standing shops and companies) with over 100 years of history since their founding. There are approximately 40,000 of them which account for 40% of the global share. These are mainly from traditional industries such as building trades engaged with Buddhist temples and shrines, brewing businesses for miso, soy sauce and sake etc. as well as Japanese hot springs and Japanese Ryokan inns. Among them, Kongo-Gumi founded in 578 is widely known as the world's oldest company.
Here in Suginami, too, there were companies relocated to the area after their premises were burned down in fires caused by the Great Kanto Earthquake in 1923, or many companies that were founded due to the military demand before and during the war.
Miharado in Nishi-Ogikubo is also a "Shinise" wagashi (Japanese sweets) shop which opened its doors in 1935. We talked to the 3rd generation owner, Mr. Kotaro Tanaka.
[published November 2022]
Experience Suginami Tokyo: Could you tell us about the history of Miharado Japanese sweets?
Kotaro Tanaka: In 1935, my grandfather, Yoshio Tanaka, the first-generation proprietor opened the shop in this place and got through some difficult times.
At the beginning when the shop first opened, he used to pack a wide assortment of wagashi sweets samples in a tiered lacquered box each morning to take around every home in the residential areas to take orders. The wagashi ordered during these visits were delivered to the doors on the same afternoon. This is called "Goyokiki" which is equivalent to a present same-day delivery service.
He also devised various ideas, for example, he swiftly introduced a kind of loyalty card that gave rewards to the customers. Such communication with his customers seemed to have helped him to earn their trust.
EST: What was business like during the war?
KT: The ingredients for wagashi sweets such as rice, sugar and "azuki" (red beans) became rationed, thus they were in short supply. Without access to the ingredients, he could not make products so he had to close the shop and the business struggled. Also, there was a time when the war situation worsened, and he was drafted to the nearby Nakajima Aircraft Company Tokyo factory where Zero Fighter aircraft engines were in production.

Even after the war ended, the situation was not yet favorable for making wagashi and instead he made sandals and toys to fill up the shelves to sell. He had to persevere through adversity, longing for the day when he could resume making Japanese sweets.

Along with Japan's high economic growth (between around 1955 – 1973), the town of Nishi-Ogikubo flourished. Miharado also steadily took root as a sweets shop in the local community. Later, ownership of the shop changed hands to the second generation, then in 2009, I succeeded the business as the third-generation head of the shop.
EST: Did you learn the wagashi business from your grandfather or did you have to start on your own?
KT: I actually used to be an office worker before this job had no connection with the business of wagashi confectionery shops. However, I was saddened to hear the news that the shop at which the first-generation proprietor (my grandfather) had his apprenticeship was closing down for good. Meanwhile, following Japan's economic bubble period (approximately 1986-1991), the shopping streets of Nishi-Ogikubo had changed significantly. That made me think anew what Miharado had been offering to the community and what the local residents expect from the shop. Then I made a decision to take on the business as the third-generation head of the shop, considering that the shop had been nurtured for many years to be loved by the community, and I could not possibly let Miharado come to an end.

When I was an office worker, my job was in marketing.
EST: What are your goals and challenges as the third-generation proprietor of Miharado?
KT: I'd like to carry on making classic wagashi sweets that offer a taste of seasonality as well as Japanese culture and tradition, rather than sweets that are just a short-term fad. Also, I want our shop to be a base for promoting information on wagashi especially to the generations who tend to be unfamiliar with it.
Miharado's challenges will continue, but I will rise to the occasion.



Address: 3-20-12-1F Nishiogi-kita, Suginami-ku, Tokyo
Phone: 03-3397-3998 (Japanese only),
Open: 9:00am - 7:00pm
Closed: Sundays
Station: 1 minute on foot from JR Chuo-Line Nishi-Ogikubo Station North Exit


Article References: Nikkei BP Consulting (March 2020),
Suginamigaku Club https://suginamigaku.org/ (external link)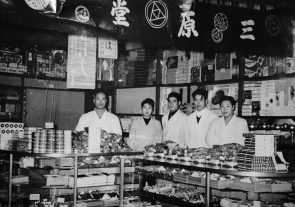 First-generation owner of Miharado, Yoshio Tanaka (far left)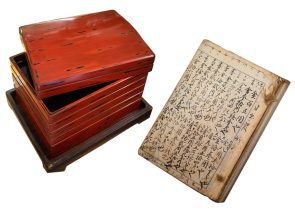 Example of lacquered box used for early deliveries (left), and larger box (right)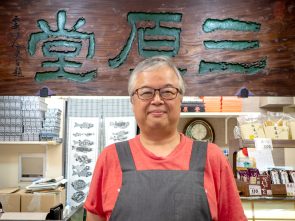 Third-generation current owner, Kotaro Tanaka, in front of the old wooden sign from the early days of the shop (it is read from right to left as opposed to modern Japanese that goes left to right)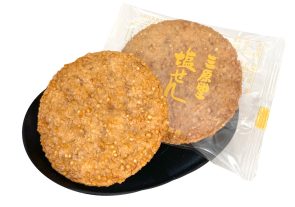 Not just sugary sweets, but Miharodo also makes salty "senbei" rice crackers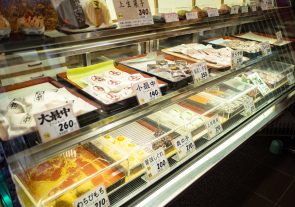 Seasonal wagashi sweets at Miharado