HOW TO USE JAPANESE HAIR SALONS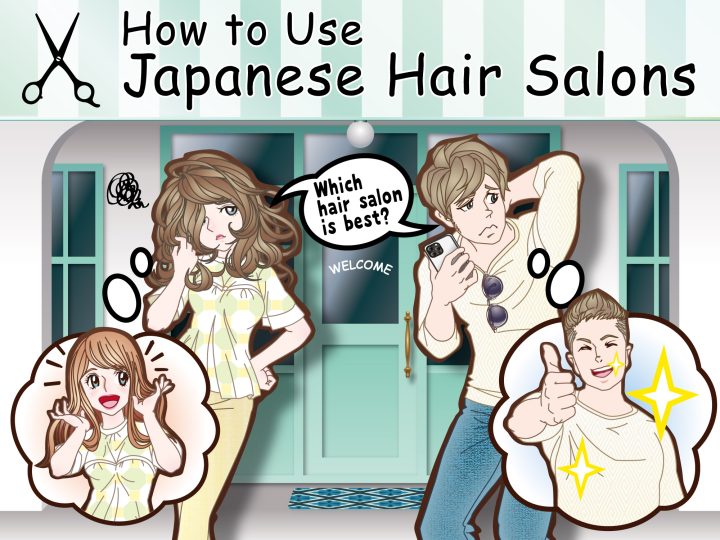 HOW TO USE JAPANESE HAIR SALONS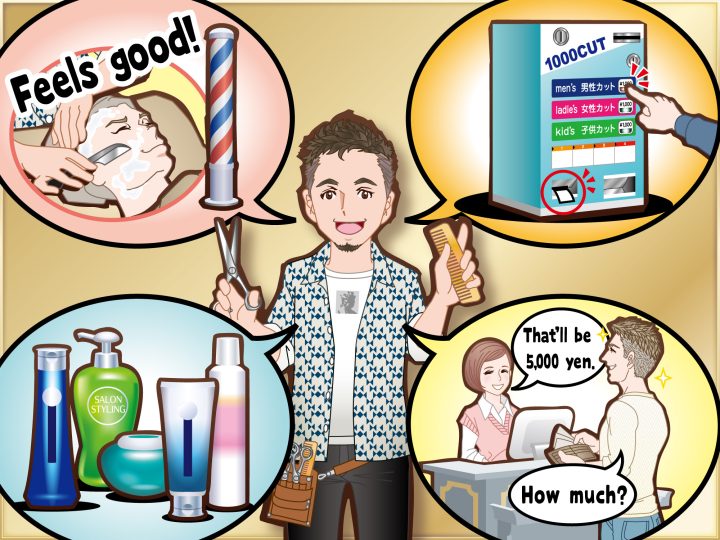 2 Types of Japanese Hairdressers

In Japan there are typically 2 types of places where you would get your hair done. The first type is a barber shop or quick salon where you can get your appearance in order quickly by getting a simple haircut or dyeing your graying hair and so on. The second type is a hair salon where after some courteous counseling, time and care are taken for optimal service and more advanced procedures. Of course, the cost is also quite different between these 2 types of places.
Both types have their advantages, so if you want to utilize their services during your trip in Japan it is important to understand the time they take and how to make an appointment. In the past, the simple barber type was mostly utilized by men while the in-depth salons were utilized by women, but nowadays both sexes freely use both depending on the type of service they want.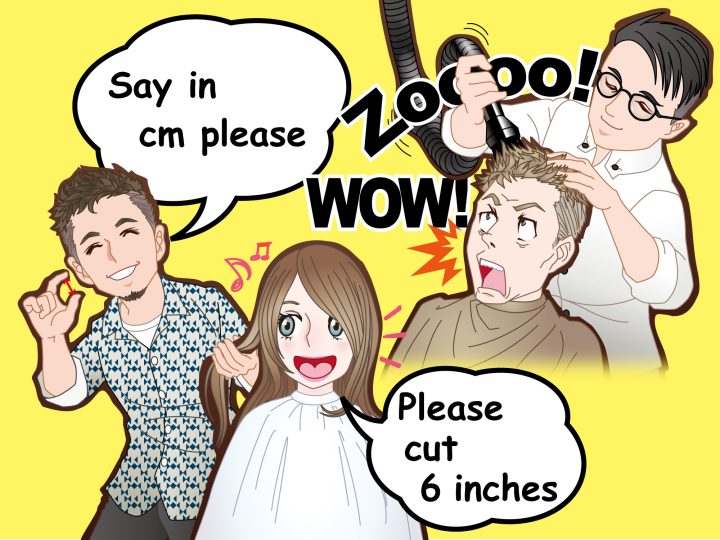 Quick & Low-Priced Barber/Fast Salon

Fast salons and barbers give cuts usually within 15 minutes. The dyeing process for gray hair is around an hour. Most are chain businesses.
・Making an appointment online is usual, but you can walk in without one during less busy times, like weekday mornings. If online appointments are difficult even with auto translation etc., it may be possible to do it over the phone if you speak slowly in simple English.
・Payment at most quick salons is done through an automatic ticket machine. Some may use numbered tickets for order. Note that many are cash only.
・Fast salons usually prioritize speedy service with standardized results, but if you want to change your hairstyle, showing a photo as an example may help. Tell them how much you want to cut, for example "cut 3cm," (Japan uses metric measurements)
・Note: Some barbers may even vacuum up the cut hair. Quick salons typically do not wash hair. For places that do hair dyeing, they may wash and dry your hair but usually separate from the dyeing service/price.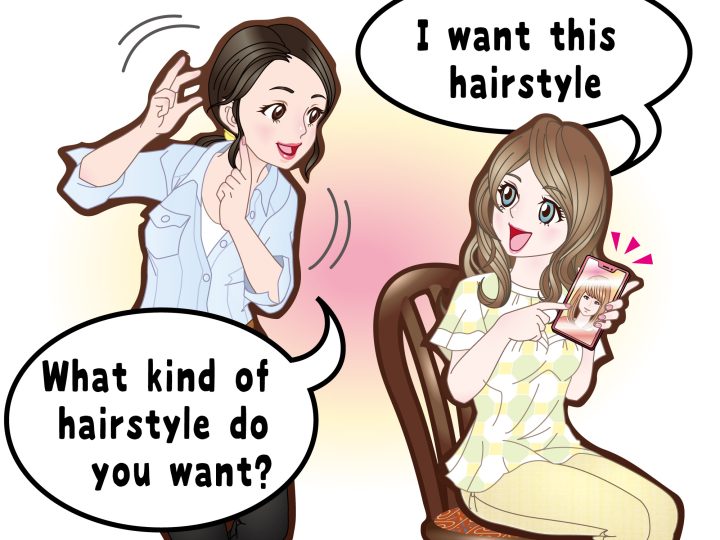 Specialized Beauty Salons

・Make an appointment directly at the salon if you have trouble online or over the phone. Tell the staff if you want a cut, hair coloring, Japanese hair straightening, or another service. At that time you can confirm the price.
・Payment is usually made after the service is completed, and nowadays many salons accept credit cards. Some have discounts for students, so if you are student be sure to have proper ID just in case.
・Mr. Ando at Voyage Hair Salon in Asagaya, who worked at a salon in London, gave the following advice: "At Japanese hair salons, we usually have counseling first to confirm what style and type of care the customer desires. If you cannot communicate in Japanese, if you show a photo and use simple English, we can give an estimate cost. I also recommend trying some treatment to improve hair quality. Just by having a treatment done once, your hair texture can improve."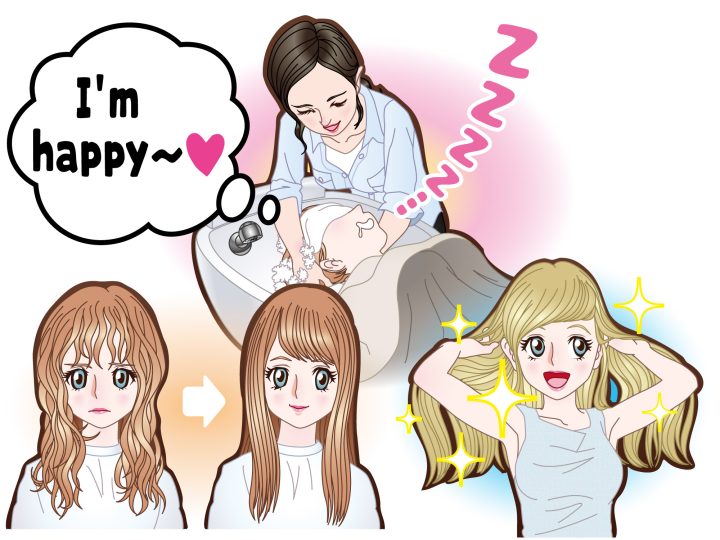 The Japanese Salon Experience

・Get a Shampoo that feels so relaxing you could fall asleep! At Japanese salons you'll often leave the usual service chair to go the shampoo area, and get your hair shampooed by the stylist. With a warm towel placed over your face, this shampoo will revitalize you. Let the staff know with gestures or words if you feel itchy, or if the water is too hot or cold. At some salons a shampooing is included in the cut price.
・Japanese Hair Straightening is a cut above the rest! There are many methods in Japan to straighten hair without damaging it, and even methods that the process feels good. Due to excessive rain during the rainy season in June and humidity throughout Japanese summer, many people in Japan utilize this service to prepare. Choose a method suitable for your hair type and budget.
・Japanese Hair Coloring works well with black hair! Since Japanese people naturally have black hair, there are advanced methods used to decolorize the hair before dyeing that take time, but there are various methods depending on your hair color and desired color.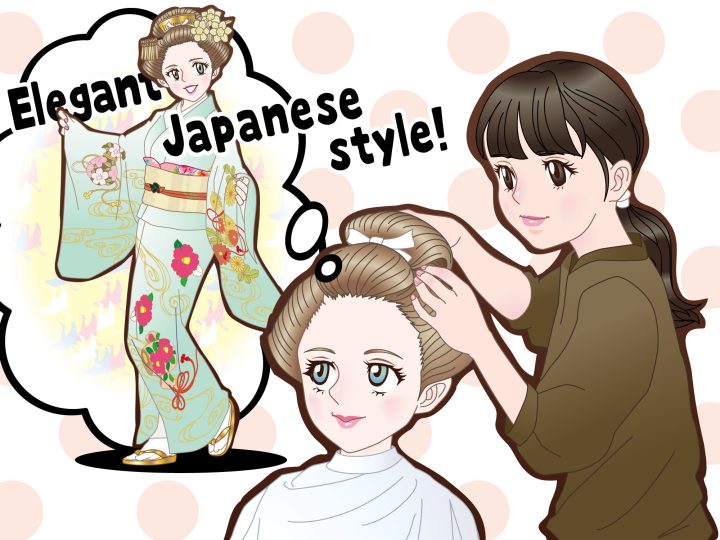 Kimono Dressing, Traditional Japanese Hairstyling, even Nails

There are even places that help with dressing in kimono and traditional Japanese hairstyles for ladies. For those who want to experience traditional Japanese fashion, this is a good opportunity to get some professional assistance. To have your hair put up in the traditional Japanese style you can see in old movies, you will need to have hair down to your shoulders in length at the shortest. Since traditional Japanese hairstyling is very specialized, be sure to confirm if there is staff that can arrange your way this way in advance. There are also salons that have nail artists or joint establishments with nail salons or cafes, and salons that will even assist with clothing rental.
Japanese hair stylists are said to be among the world's finest, with top class skill. In Japan at least 2 years of specialty training is required for all hair stylists (hairdressers, beauticians, make-up artists and cosmeticians) and barbers (giving haircuts and shaves; usually their shop has the standard red, white and blue pole out front). Japan's strict qualifications are not even outdone by the level in France, the UK, or Korea. Typical Japan politeness and artistic sense just add to the list of why you would want to try a Japanese salon. We hope that our explanation of how you can select a hair salon and how you can make your request could help you make the decision to try out a Japan hair salon in Japan during your visit. It would be a great chance to experience Japanese hair stylists' tremendous skill and artistic sense.
You can find many beauty salons in Tokyo even in residential neighborhoods. These can be rather hidden salons, popular spots for young people, or long-established family businesses. Many Japanese people enjoy conversation during their time there with the stylists, but if you can't speak Japanese or just want to relax it should be no problem.
There are also salons selling original shampoo and conditioner, and most salons are diligently maintained since there is so much competition. Many products sold at Japanese salons will not be easily obtained overseas, so they may good for souvenirs. (*Please be sure to follow rules for your airline regarding traveling with liquids, etc.)
As far as service and Japanese hospitality goes, many salons will serve tea or coffee while you wait or during consultation, and there are also salons that give light neck or head massages after your procedure. If you have interest in fashion and the beauty industry, by all means give Japanese salons a try when you visit. The experience will likely become one of your unforgettable Japanese memories!
Sources:
Ministry of Health, Labor and Welfare website
Licensed Hairdressers and Beauticians News Official site
[published July 2023]
Assistance: Asagaya Voyage
Illustration: Takeshi Kamimaru
Text/Edits: Kayoko Tezuka
Translation: Greg Mudarri