HOW TO ENJOY SAKURA CHERRY BLOSSOMS
HOW TO ENJOY SAKURA CHERRY BLOSSOMS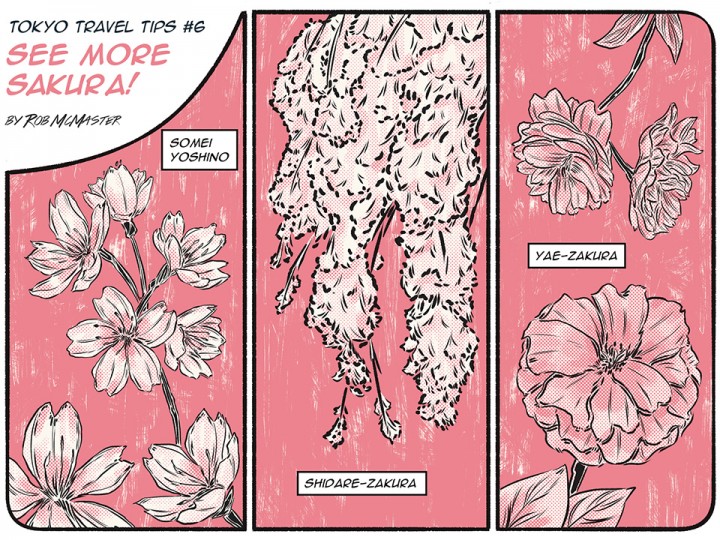 Know Your Japanese Cherry Blossoms

There are various kinds of "sakura" cherry blossoms, some that bloom early, some that bloom late, white flowers, and pink flowers. Altogether there are over 600 varieties, there are 3 main classifications:

1. Somei Yoshino (the standard type of cherry blossoms)

2. Shidare-Zakura (cherry blossoms that bloom on a drooping Willow-like tree)

3. Yae-Zakura (lively cherry blossoms of deep color with repeatedly overlapping flower petals)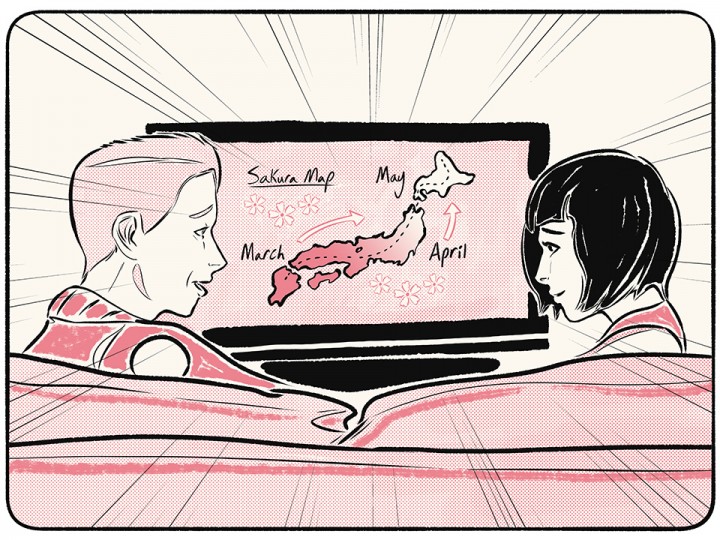 Check the Weather and Sakura Season Forecast

Nowadays people have an outdoor party or feast while cherry blossom viewing, so they pay close attention to the weather of the season.

Every year starting around the 20th of March the weather forecast predicts when the blossoms will open up, when they will be in full bloom, and information regarding the dates of blossoming throughout Japan, so it is important to pay attention to these updates.
For cherry blossom viewing in the Tokyo area, typically you can enjoy full bloom for about 5 days in between around March 25th and April 10th. The blooming period changes easily according to the temperature and weather of February and March.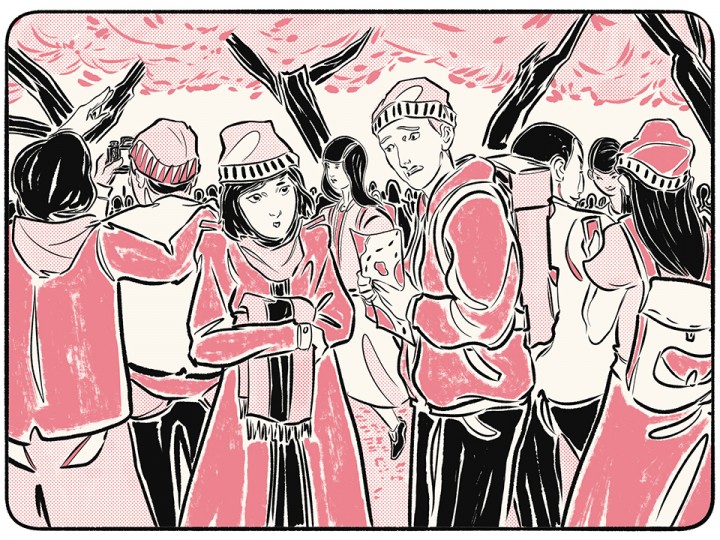 Search for a Good Spot!
In Tokyo the famous places for cherry blossom viewing like Ueno Park are so crowded you won't be able to enjoy a viewing party without holding a spot from the early morning. However, you can find great spots at less well know parks!
There are beautiful sakura trees along the riverside park area in Asagaya (only 10 minutes from Shinjuku by train), an area that is still unknown to most tourists and non-residents. The length of the cherry tree area here is almost 1km long, and here residents casually enjoy the blossoms. Since places like this that are not well known are far less crowded, do yourself a favor and find a local spot like Zenpukuji-Gawa Green Park
(See info here).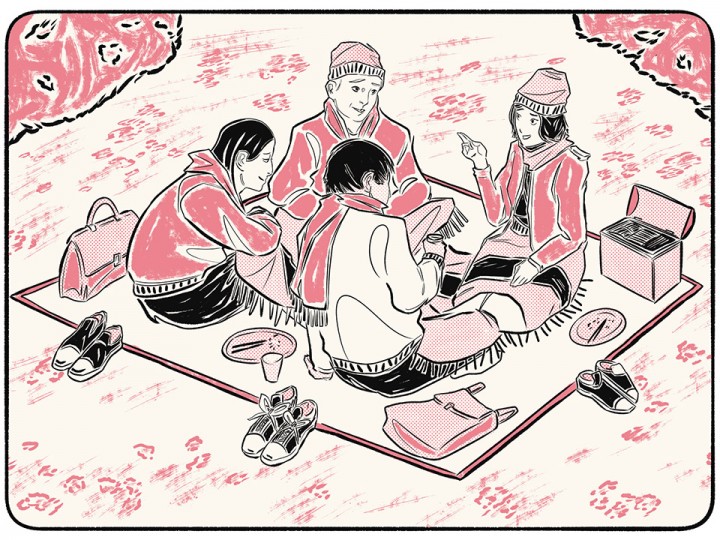 What You Need to be a Sakura Master!
During Cherry blossom season you can find many food carts and sometimes even catering services to order from, so you might not need to bring your own food but you should bring your own mats to sit on and warm clothing. Most people lay down a large mat or sheet on the bare ground and take their shoes off on the mat, where they'll have a large-scale picnic-type of party.
Since Japan can still be quite cold during cherry blossom season, a thicker mat helps to keep your feet warmer (and provides extra padding from the hard ground). Japanese also use lap blankets and "kairo", a pocket hand-warmer pack, which you would be glad to have as well (get them at a drug store). Since trash cans are usually not available or if they have been put out for the season they may be far, bringing your own trash bags is necessary.
(See our trash manga here for more about Japan's waste disposal customs)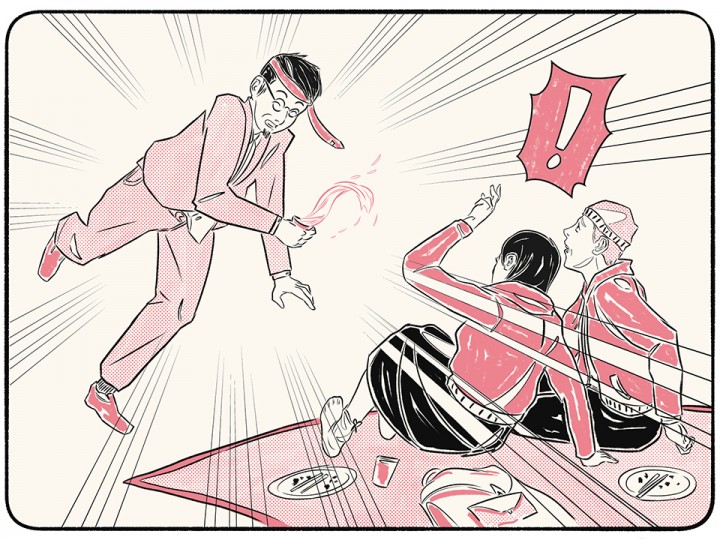 Be careful of Excessive Drinking!

Many Japanese love to drink themselves silly at cherry blossom viewing parties, but it can put you in some rough situations. At especially popular spots, the line for public toilets can get so long you simply cannot use them. And even if you do, the toilet paper etc. will have long run out in many cases, which could be a big problem for you, so please be prepared for such issues.

Besides your own discomfort, it's also important not to drink too much as drunken behavior could disturb your neighbors who are also trying to enjoy the blossoms, so please drink responsibly in these public areas.
In terms of flowers that are typically Japanese, "ume" plum and "sakura" cherry blossoms are famous. Especially in the Nara Period (710-794) the sakura cherry blossoms were considered sacred objects. In those days people went plum blossom viewing rather than cherry blossom viewing, until around 1300 when cherry blossom viewing became common among nobles. In the second half of the 1700's common people also began the custom of enjoying the sakura around town every spring.
Every year the amount of foreign tourists who go cherry blossom viewing increases, but there have been some problems. Some people have been seen tearing off cherry blossom branches or picking the flowers. Since sakura are a very special flower to Japanese with sacred history, it is best to be respectful and enjoy looking at them without touching them.
We hope you can enjoy meeting Japanese residents and foreign visitors alike while making special memories of your time in Japan during cherry blossom season.
[updated May 2020]