Name:

Nobuyuki Kurihara
Profession:

Tempura Chef
Birthplace:

Kanda, Tokyo
Current Residence:

Suginami, Tokyo
INTERVIEW WITH NOBUYUKI KURIHARA (TENSUKE)
There is always a long line of customers in front of Tensuke, a very popular tempura restaurant in Koenji. Not only people from all over Japan make a point to visit, but also many people from abroad come to eat at Tensuke.
We had an interview with owner Nobuyuki Kurihara to find out more about what makes his tempura restaurant so special.
Experience Suginami Tokyo: Thanks for talking to us about your tempura! What made you decide to run a tempura restaurant?
Nobuyuki Kurihara: My parents ran a fish shop in Kanda, Tokyo, and quite a famous tempura restaurant called Imoya was near the shop. I always saw a long line of people waiting for their turn in front of Imoya. At that time I was a young child and I thought, "Wow! A tempura restaurant is really a great business." So after I worked for some restaurants, I decided to work for a tempura restaurant.
EST: Could you tell us about how you learned tempura-making? Also could you tell us about how you came to open this restaurant?
NK: In the kitchen of a tempura restaurant, the work is divided into two roles, Agekata and Wakinabe. An Agekata is a cook who covers tempura materials with batter and puts them in the pot to deep-fry them. Wakinabe is a cook who turns over tempura in the pot and sees whether tempura is being properly fried in the oil. You must work as a Wakinabe first, and then as an Agekata. So I had to go through that process at Tsunahachi and Tenkuni for about 10 years. I opened Tensuke in 1987 at age 36.
EST: How did you come up with the name "Tensuke"?
NK: Tempura restaurants traditionally have "Ten" for their names, like Tenichi or Tenmasa. I followed this tradition and I put "suke" after "Ten," because "suke" sounds more casual (ed.: "suke" is a common ending to a man's first name, such as "Daisuke"). I had wanted to have a very casual restaurant. I also made it in hiragana (ed.: Japanese phonetic writing as opposed to Chinese kanji characters) so that it would look simpler.
EST: Why did you choose Koenji for your restaurant?
NK: I was looking for a good place throughout Tokyo, but land prices downtown were very high as it was around the time of the end of the bubble economy. So I gave up and started looking for a good place in Koenji, where I grew up. Luckily I found the right place-- right between a tonkatsu restaurant and a ramen shop, and both of them were very popular among the locals! I am satisfied to have chosen this place. Koenji is a casual and friendly town, and that was the important element in opening my own restaurant.
EST: Please tell us about the menu. You make many kinds of tempura that usual shops don't serve, like broccoli tempura. Will you tell us something about this? Also, we'd like to know how you started your performances and Egg Lunch (set menu with egg tempura) which is quite popular among your customers.
NK: I think not only shrimp but also many kinds of food like vegetables make great tempura. So we serve some original tempura items like enoki mushroom and tofu with monkfish liver, but we have had the Egg Lunch since we opened this restaurant. After people drink somewhere else, they often go to a tempura restaurant to have their last meal of the day. They usually have kakiage (vegetable and seafood mix) tempura ochazuke (rice tea-soup), or sakura shrimp mixed with vegetables in ochazuke. I wanted to make something else which could be more easily be eaten at the end of the meal. What I came up with was egg tempura. However, very few people ordered it back then. Perhaps they didn't have any idea what it was like, because egg tempura was very rare. I really wanted to make egg lunch more popular, so I started doing eye-catching performances just like the ones I do today. Then the performances became very popular and were introduced on TV. As the lunch itself and my performances became more popular, I gave more new performances, and the popularity of Egg Lunch grew further.
EST: When the customers saw your performance, they must have thought it was amusing enough to want to see more and tell others about it. When did you start to include egg tempura in a regular set menu?
NK: It was around 1997, about 10 years after I opened my restaurant. One of my customers who always ordered egg tempura as an extra dish said to me, "Why don't you make a set menu with egg tempura?" I thought that was a good idea. When I throw the egg shell at the walls behind me without turning around, it breaks into two pieces. One of the pieces will hit one wall, and the other will hit the other wall. I call this the "two jumps." Some customers at the counter can't see this "two jumps" performance, so I will break two eggs at the same time and show another performance.
EST: You really are an entertainer, aren't you? At the end of your performance, you make a Kabuki mie pose, a striking swaggering pose, which is performed in Kabuki play.
NK: Exactly. I would like to show a part of traditional Japanese culture to people from overseas. However, I didn't begin to do this performance for foreign travelers. I first did this for the Japanese TV broadcasting. The TV program was intended to introduce what Koenji was like, and I wanted to show something interesting. So I copied the "mie" Kabuki performance, and it was a great success. Then I went to see an actual Kabuki play. Ichikawa Ebizo was really a wonderful actor. He made a special facial expression staring strongly at the audience, and he kept that expression until the curtain closed completely. After I carefully observed his performance at the theater, I tried to imitate him to improve my performance.
EST: You put a lot into it, don't you? I think that such performances of yours have resulted in attracting a lot of customers, but there must be other factors as well. We see many travelers from various countries standing in line to wait for their turn to eat at Tensuke. These days in Koenji there are a lot of foreign visitors. When did your restaurant begin to have more international customers from overseas?
NK: What matters, I believe, is prices. I started my restaurant as a casual one where customers could enjoy tempura sets with one coin, 500 yen like the chain restaurant Tenya. Because of the reasonable prices, customers came back over and over again. As the number of the repeater customers increases, long lines form on weekends. Now as 30 years have passed, I often see three generations of a family. As for the increase in foreign customers, I think they are reading other former customers' blogs. Also, popular travel publications like "Time Out" have published info about Tensuke. Thanks to these sources, we get British, New Zealanders, Australians, Koreans, and people from East-South Asian countries. These customers wait outside for their turn even in the rain. My son and I study English in order to communicate with our customers. Recently people from China and Korea are increasing in number, so I have begun to study Chinese and Korean, too. I want to be able to say something like, "May I help you? What is your order?" in other languages according to the customers' nationality. I also want to be able to say the names on the menu in English. I try to speak even a little bit of English or other foreign languages so that the customers may feel a more relaxed friendly atmosphere.
EST: Which is greater in number, local customers or other customers including those from foreign countries? Do you give your special performance to all customers who order the egg tempura?
NK: Well, I think those who don't live near Koenji are greater in number. On the contrary, those who work near here don't usually have time to wait in a long time for lunch. However, when such local customers happen to find free time, they drop in for lunch. The interviewer in the TV program I mentioned before said, "Your restaurant is so crowded and has so many customers waiting in line that you don't have time to do such a performance." Another customer said, "That's not true. Customers are waiting in a line in order to watch the performance."
EST: It seems you have found a unique way to connect to your customers and spread the word about Tensuke.
NK: If I do my job sincerely, customers will give us a high evaluation. Even if the customers don't say anything, they will see how I work. Therefore, my motto is to deal with my customers with all my heart and to serve them in a happy and comfortable atmosphere.

[published February 2019]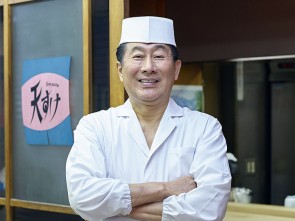 Nobuyuki Kurihara-san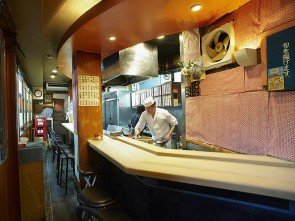 Inside Tensuke in Koenji, established 1987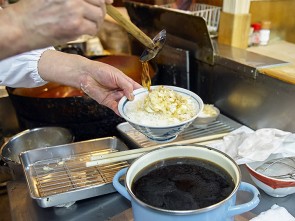 Putting the finishing touches on the egg tempura
Egg lunch set, 1300 yen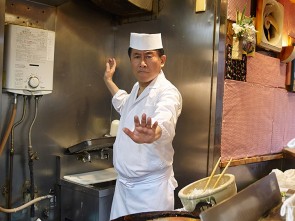 Kurihara-san's famous kabuki pose