TALKING WITH JAPANESE ANIMATION STUDIOS, PART 2
Here we present the second half of our translated conversation with Manabu Otsuka, CEO of MAPPA and Contrail Studios, and Sunao Katabuchi, director at Contrail Studio. They discuss the films "In This Corner of the World" and "In This Corner (and Other Corners) of the World" in detail, as well as what the future holds for their animated works. Please read on, and enjoy!
(See the first half ->here<-)<
[updated May 2021]
3. About "In This Corner of the World"

Experience Suginami Tokyo (abbreviated as "EST" hereafter): "In This Corner of the World" was released in about 70 countries. In which country was the film most successful?
Sunao Katabuchi (abbreviated as "SK" hereafter): It was in Thailand that the film was first released in large scale abroad, and then in Mexico. In Mexico, they promoted the film well, even using buses fully wrapped with ads. Even after the release, one film critic recommended the film to another film distributing company. In France, a film agency enthusiastically promoted the film. We redrew Japanese signs for the dates in in the film with French letters for the French version. The film was so popular in France that there was a long period of time when on any given weekend it was playing somewhere in the country. Other than that, the film was released in the US and many other countries. We get lots of comments from fans on social media. One overseas fan even translated the comments into Japanese so we could read them. We are very happy to be able to read those comments from Korea, Russia and Spain and many others.
Unfortunately, though "In This Corner (and Other Corners) of the World" was released in Japan last year, it has not yet been released overseas, and only viewed at a few film festivals. The other day, we had a remote lecture for French students to critique their works, and one of the questions from them was when they could see the film in France. Just like this, people the world over are really looking forward to the film. When this pandemic subsides, I'd like to go overseas and have a direct contact with many fans. I hope to communicate to them nuances of Japanese culture and history as depicted in the films, and talk about our research.
EST: In the film, "In This Corner of the World," there are very delicate depictions, especially the images of Hiroshima City and Kure City were really impressive. I heard your team was very particular about historical accuracy. How did you research?
SK: In history textbooks everything is written in letters, but we wanted to depict everything just as if we were in the middle of those days. "In This Corner of the World" is Fumiyo Kouno's original manga, and the original is written on that idea. Ms. Kohno said that she did not want to approach the story from her own historical viewpoint. She said that she wanted to express the people of that time or find in what circumstances those people were living. Rather than being specific about the locations, she would rather the readers realize and figure out those details on their own. I had never been to Hiroshima or Kure when I read her manga, and wondered whether the places were depicted exactly in the manga. Ms. Kohno wants the readers themselves to discover each place. In the story a bridge is drawn, and this bridge is the one that the US bomber targeted for dropping the atomic bomb on August 6th, 1945. You can see clearly when you look at the bridge from above. The bridge is T-shaped, and surely the bombers could recognize it easily. The bridge incidentally survived the blast, though. Years before the blast, Suzu, the main character of the story, as a young girl meets a boy on the bridge who would become her future husband. In the story, you cannot tell exactly which bridge it is, but you can if you look at the figure of the bridge. So, the story expects the readers to figure it out themselves. We tried to find out every detail of Hiroshima and Kure. We looked at many photographs of those cities, and even referenced a phone book from that time. We collected lots of materials and put them together, hoping to be able to draw the situation of those days in detail. When the film was released, elderly people who had lived through those days in 1945 came and said to us that the film was really close to reality, and that the film really reminded them of those days. On the social media there were many comments like that. We felt that to be a reward for our meticulous research and proved what we did to make this film was right.
EST: Regarding that "In This Corner of the World" was originally a manga, what was the process of making it into a film?
SK We had made "Mai Mai Miracle" into a film before "In this Corner of the World," and the stage of the film is Yamaguchi Prefecture in 1955. We wondered, "Did the adults in that film based in 1955 experience the days of 1945?" We considered what it was like in those days, and in perfect timing a person in Yamaguchi introduced us to the original manga "In This Corner of the World" by Fumiyo Kouno. When I read it, I felt that I wanted to animate it with my own hands, and not pass it to anyone else. However, this idea wouldn't pass at the company I was with at with at the time, so I decided to start a new company with producer Masao Maruyama. That new company was MAPPA. At that time remember thinking I had met a book that would be with me throughout my life.
EST: I read that you produced the film by crowdfunding. What do you think pros and cons of crowdfunding are?
SK: When pitching an animated film, its plan often won't be accepted. In the world of animated films, there hasn't yet been one like "In This Corner of the World". To produce a completely new type of films and to invest money in its production is a very difficult decision for investors, because there is no basis for making a decision. Although we say it may be interesting, we never know how many readers there are and how many people will come to the movie theater to see the film. Then we hit upon an idea of crowdfunding, meaning regular people who want the film to be completed are investing their own money, and they are sure to see the film they helped fund. This way we could get a number of such people, and get an idea of how many people would come see a film of a completely new genre. The crowdfunding we carried out was a budget for making a 5 to 10-minute pilot version of the whole film. Fortunately, a huge amount of money was sent in a very short time. We had a certain basis to realize that the film would have a big enough audience. Thus, we had a lot of investors. Although this film was a kind of new adventure, the adventure had a lot of supporters. So that was a great aspect of crowdfunding.

Manabu Otsuka (abbreviated as "MO" hereafter): I suppose that this film became a good model of how crowdfunding can work with animation. We showed that Japan can have such a method of producing animated films.

SK: A negative point could be that we are likely to depend too much on the audience. We may feel we have to focus too much on what people are expecting.

EST: Do you have any interesting stories or episodes about making "In This Corner of the World"
SK: We started the film in the summer of 2010, released it in 2016, then "In This Corner (and Other Corners) of the World" was released in 2019, and finally the revised version on Blu-ray Disc came out in July 2020. It took us as long as 10 years to complete it all. Previously we discussed our in-depth research. We were researching constantly, through the full 10 years. For instance, the main character Suzu is a house wife, so there are some cooking scenes. The type of kitchen knife shown on the Blu-ray version is different from the one that was released for the first time, since we learned they used a different kitchen knife there at that time. Rather than wanting to know facts, we specifically wanted to experience the lives of those days. In Hiroshima, kitchen knives were in that shape, and plants like those were growing there. Just like this, we tried to put the details together to reproduce the world of those days. We wanted the viewers to experience what it was like being in that time as well.
EST: The film "In This Corner (and Other Corners) of the World" was released in December 2019 in Japan. Rather than a "director's cut" version, you remarked it should be considered a different film. Could you tell us about it?
SK: "In This Corner of the World" is a film which depicts what Suzu-san experienced. In the manga, Fumiyo Kouno wanted to depict the war through the Suzu-san's experiences, but the main theme is "war" rather than Suzu. But we began to think how Suzu-san was looking at the world, and we thought we should make a film from her point of view. That's why we made "In This Corner (and Other Corners) of the World." Suzu-san had her own life, but we thought we should describe other lives as well as Suzu's. That's the reason we gave this title to this film. The film was released in December 2019 and is still being show (now in 2021). Now it is available both in DVD and online, but we'd like people to see it in the theater so that they can experience just as Suzu-san did. We applied the same scenes as the former film, but the concept is different. In that sense, the film is an entirely new one.
4. The Future of MAPPA and Contrail

EST: Will you please tell us about your future outlook of the works and the company?
MO: Contrail intends to send Director Katabuchi's works to the world, and on top of that, and we wish to succeed the style of his animation to the animators and producers of the next generation.

SK: Our aim is to broaden our style and succeed it to the next generation.

MO: What we have done is not a special one-off occasion, but rather we want to establish our style in the animation industry. I think that is our mission.
EST: Lastly, do you have any messages for the fans around the world?
SK: "In This Corner of the World" can be seen throughout the world owing to distribution methods like online streaming services and others, but "In This Corner (and Other Corners) of the World" has yet to be seen around the world. It may take a little longer because of the Coronavirus pandemic, but we believe the new film will be entertaining because it is quite a different film. We'd like you to look forward to it. Also, we have started making a new film. "In This Corner of the World" is a film that takes us back to the days of 75 years ago. We thought, if we can go back to the days of 75 years ago, what if we went as far back as the days of 1,000 years ago? We are now preparing for a film in which everyone can feel as if we were in the days of 1,000 years ago. We are currently working on the preliminary arrangements and screenplay.

MO: All the books we are surrounded by now are mostly research for the film.

SK: Once again, Contrail is a company that was established to make new films. We are grateful if you look forward to them.

MO: As a message to the people overseas and in Japan, we will continue making good anime here in Suginami. We want people to enjoy our works, and when COVID-19 subsides, we hope people can come to this city to find that animated films are being made in such a place. One of our goals is that school students living in Suginami would consider becoming an animator as one of their future jobs. Just as local people are happy when their high school baseball team wins the championship in the Koshien Baseball League, we will try hard so that anime made in Suginami will spread around the world.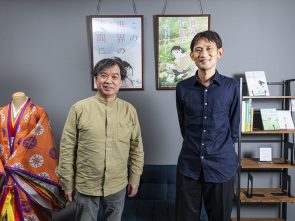 Sunao Katabuchi (left) and Manabu Otsuka (right) of Studios MAPPA and Contrail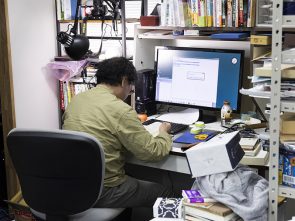 Director Katabuchi at work in his studio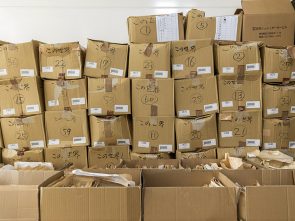 Boxes of material for "In This Corner of the World" show how much work went into the film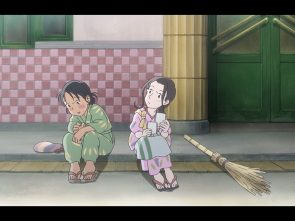 "In This Corner (and Other Corners) of the World" tells more of the story of Suzu and other characters, such as the courtesan, Rin (image courtesy of Contrail)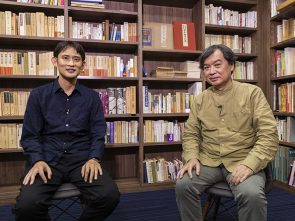 Otsuka-san and Katabuchi-san in their studio library, where they are conducting research for their next film