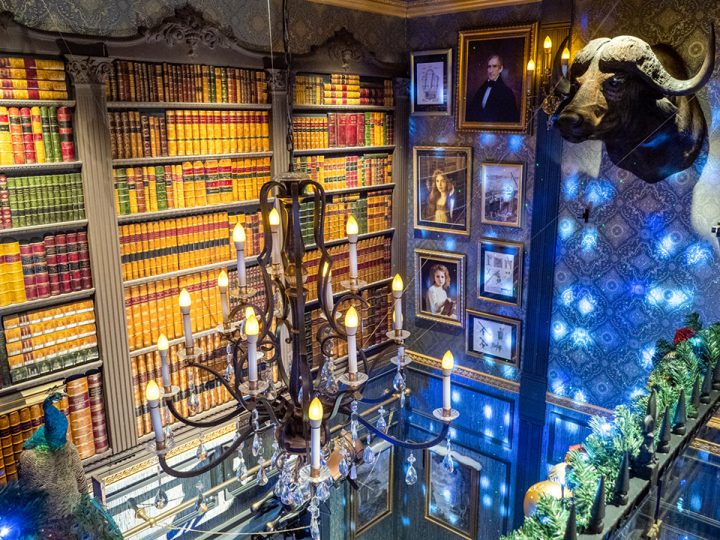 Name:

Hidemi Matsuzuka
Profession:

CEO of Raven Studios
Current Residence:

Suginami, Tokyo
Web Site:

https://www.raven2015.com (external link)
INTERVIEW WITH FANTASY THEME CAFE, CHAMBER OF RAVEN
Chamber of Raven is a theme-café of another world, which can be found just north of Ogikubo Station in Suginami. Using the JR Chuo Line, Ogikubo Station (JR line stop JC09 or JB04) is located approximately 10 minutes from Shinjuku. When opening the solemn gates to the Chamber of Raven, you'll enter the fascinating world of "Mid-Erd," which the Chamber is based upon. Fantasy fans the country and world over traverse the land to gaze upon the enchanting atmosphere within its walls. As you may have wondered, we at Experience Suginami Tokyo also were curious to know what mind(s) brought such an intriguing place to life in Ogikubo in Suginami, Tokyo. We were absolutely pleased to be able to speak to the CEO of Raven Studios and mind behind the Chamber of Raven, Mr. Hidemi Matsuzuka ("Hidemi Matsuzuka" and "HM" in the following). Here we present our interview with him translated into English.
[published January 2023]
Experience Suginami Tokyo: Thank you for meeting with us! First off, when and how did you come up with the idea for Chamber of Raven, and how did you bring it to fruition?
Hidemi Matsuzuka: Previously I worked for a video game company in the entertainment industry, making games and toys. I was mostly involved in making (character) figures for overseas. My job had me often going to US movie companies and film distributors to work out license agreements in order to make the figures.
I think through that experience, I began to conceptualize the Chamber of Raven. At film studios in the US I entered many movie sets, and they really stimulated my senses. The creation of something that doesn't exist, a world of unreality—it's bewildering and pulls you in. I thought, I also want to bring fantasy to life in such a way.
For figure production they're mainly made through factories in China, and actually most of those factories are tied to Hollywood in some way. In other words, they make a lot of Hollywood film sets as well. Through my work I had a good relationship with such businesses.
For example, there are makers of armor, and things like plastic leaves so they won't decay when used in films, and factories that make fighter planes for movies and so on. Since these places were right in front of my eyes, I could quite clearly harness the power and creativity of Hollywood.
So I wondered, "Is there a place like that originating in Japan?" Most of the famous theme parks in Japan have originated in the US. So I began to wonder if there could be something that we could do in terms of bringing a fantasy world that doesn't exist to some form of reality. It could be small but high quality, but I knew I wanted to open something.
EST: So how long did it take from the time you had those thoughts until the Chamber's realization? And how did you go about it?
HM: After leaving the game company job, it took about 2 years to find property and build the building, all while planning the concept. During that time I also had a lot of the interior display items made. In 2 years there were enough display items made to fill about 200 cardboard boxes. However, when finally decorating the interior of the building, we realized it was not enough. It felt really empty inside. So from that point up until now we've continued making interior display items, and now there are about twice as many decorations from when we first opened. In that sense, it's been a gradual and time-consuming process.

Our regular customers sometimes come 2 or 3 times in a week, so they often check what's on display inside. They'll say something such as, "That wasn't there before," or the like, and there are some people who remember better than I do! It's as if our customers are challenging us, so I felt I should live up to the challenge. Recently customers who haven't been since before the pandemic have started to return, and we're hearing them say things like, "I was surprised at how much the menu has expanded since I used to come." The constant additions and improvements have become a sense of pride.
EST: After your 2 years of preparing the Chamber of Raven, how was it received at the outset?
HM: There was a good deal of buzz about Chamber of Raven so that we had a successful opening with customers lining up daily. However, then the COVID-19 pandemic hit, and we changed to a by-appointment-only system, and decreased the amount of seating. Now we have more room, and customers can also feel more relaxed to enjoy a meal at a leisurely pace. Yet, our busiest seasons are Halloween and Christmas, during which we are fully booked immediately once accepting reservations.
EST: That's great to hear you have done so well. What kind of promotion have you done?
HM: I've been using Twitter for a really long time, and that has been a driving force behind our promotions. Actually, my first target audience was men like me or older, who were interested in video games and RPG's and so on. I thought these guys would come and sit back amongst this fantasy setting and enjoy some quality coffee and such. I thought it would work out great, because I'd understand how to please my customer base.
But when we opened, we found 90% of our customers to be female, and of them about 80% were in their teens and twenties. I was really surprised. On display we have things like animal taxidermy mounts and skeletons. Even though I imagined middle-aged men sipping bitter coffee here, I was delighted to find an audience who appreciated this place, despite my miscalculation! So then I started a Chamber of Raven Instagram account to appeal to young women. I still do want some older guys to come, though (laughs).
EST: Did you use any specific country or culture as reference for Chamber of Raven?
HM: Yes, specifically the culture of "Wunderkammer" (German term for "wonder-room" or "cabinet of curiosity"). "Wunderkammer" are the rooms showcasing rare items kept by lords or wealthy people in Europe in the old days (mostly 16th to 18th centuries), usually containing real animal taxidermy specimens and skeletons as well as minerals, etc. These rooms were kind of the predecessor of museums. Displaying various rare items collected from around the world, that is the Chamber's base concept. Of Chamber of Raven's items, about 80% are real, while the remaining 20% are fake. For real fantasy, you also need things that don't exist in the real world. For example, Poseidon's trident doesn't exist so we made one.
EST: I think you must be most concerned with Chamber of Raven's world view of "Mid-Erd", but what in particular?
HM: I want to make it appear unlike the real world as much as possible. If that seam is torn open even a little bit, it will be like waking from a dream, and the magic will fade. So, I'm very particular about making sure that doesn't happen. We especially like high fantasy like "Lord of the Rings." We go into depth with all the details surrounding everything, putting in as much time and effort as possible.
EST: I imagine there are some customers of yours who don't use the space quite as you had envisioned.
HM: Some customers bring their favorite character figures or stuffed animals and set them up on the table, and make a kind of shrine on the table. Especially during Halloween, lots of customers dress in costumes. Some come dressed as princesses and spend the whole time taking photos with their friends. Please be advised we don't have a changing room, so you may have to turn some heads on your way over here.

However, while there are those who come in their elegant dresses and take photos, there are also those who come to quietly read a book. Of course, there are also customers who come specifically for our one-of-a-kind food and drink menu as well. We (the staff and I) are always saying to each other how great it is that so many different people with their own ways of enjoying the space come to Chamber of Raven.
EST: Yes, the menu is really exquisite—each item is like a work of art. What is the concept behind your menu?
HM: Thank you for the kind words. The building itself has a story, so we thought the menu should also fit into that story. For example, every piece of chocolate that is placed on our parfait selections and so on, is an original design from molds we've made. Because such aspects of our menu are not being sold elsewhere, they will be something special that can only be found inside the Chamber of Raven.
EST: Do you have customers from overseas or traveling far distances domestically to see the unique atmosphere? Are there any specific things that you pay attention to for overseas visitors?
HM: Yes, some visitors have come from the other side of Japan, and sometimes from overseas as well. As for what may appeal to foreign guests, well, for one, our food and drinks are American size! Even though they are made with their appearance in mind, there is no compromise on the taste or volume. I believe Japanese cuisine to be very high quality, but as someone who has spent time living and working abroad, I was always bothered by the fact you'd never feel full after a Japanese meal. As in the US, the main course, desserts, and drinks at Chamber are all huge. The original designed chocolate I mentioned is used as toppings toppings for our parfait, and actually each one is bigger than a usual chocolate bar.
The flavors are also completely a taste from of outside of Japan. Even our sushi and chirashi-zushi plates are also modeled after American sushi! We've had foreign customers tell us that, "Japanese food doesn't usually suit my palette but this was delicious!" There are also many customers who tell us that the items from our shop are perfect for souvenirs and everything was really delicious. Of course, we are quite pleased to hear such feedback.
EST: How do you feel about the location, and the town of Ogikubo? We hope anyone curious will pay you a visit without hesitation!
HM: Suginami Ward is a cultural area in Tokyo. In the Ogikubo area of Suginami, there are a lot of anime studios, and I also thought transportation access is an attractive point. Also, we are located off of Kyokai-dori ("Church Street") which is a good name. I think our Church Street might be the only one in Japan, and there is a lot of history there with the Seventh-Day Adventist Church (*editor's note: The church was established in 1914, and shares its grounds with Tokyo Adventist Hospital, built in 1929).

If it's not booked it's possible to make a reservation at Chamber of Raven in as little as 15 minutes before coming. If someone thinks on the spur of the moment that they might want to visit, they can check the reservation page at a moment's notice. Our website is in both Japanese and English, and furthermore it's easy access here. On the rapid Chuo Rapid Line it's only 8 minutes and 2 stops from Shinjuku Station on the weekend (11 minutes, 4 stops on weekdays), and only 2 or 3 minutes on foot from Ogikubo Station. By all means, leave your daily routine behind and enjoy your fill of another world at Chamber of Raven.


CHAMBER OF RAVEN
Address: 3 Chome-29-10 Amanuma, Suginami, Tokyo
Open: 12:00pm - 7:00pm, last orders by 8:00pm
Closed: Tuesdays, Wednesdays, Year-end/begin Holidays and on certain occasions
Reservations: Click >here<
Experience Suginami Chamber of Raven page: Click >here<

Interview: K. Tezuka
Translation: Greg Mudarri
Photography: Mark Hill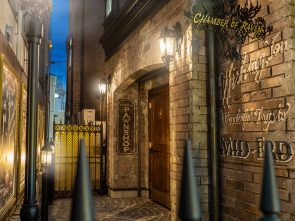 The somewhat haunting yet strangely welcoming entrance to the Chamber of Raven in Ogikubo, Tokyo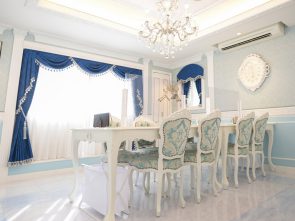 The glorious white room, where our interview was conducted and where customers may gather their figures or have a costume tea party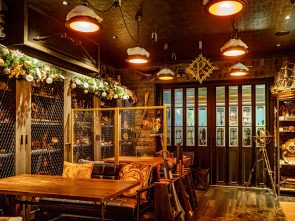 The cafe atmosphere on the first floor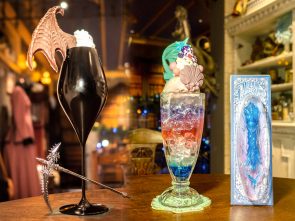 Just some of the astounding, spooky, and magical drinks on offer at the Chamber of Raven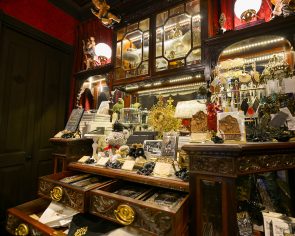 When you leave this amazing place you'll want to take something home with you, so don't forget to stop at the store!