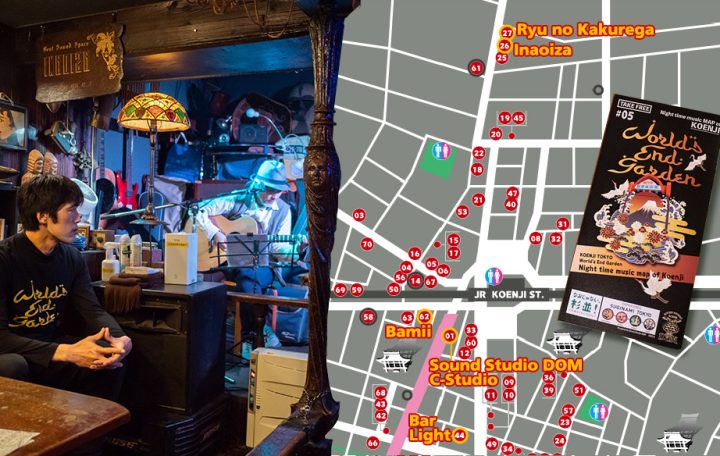 MUSIC MAP WALK (Koenji)
Representing Tokyo's Rock Music Scene: The History of the Town of Koenji
Koenji is a town in the Suginami ward of Tokyo that has long been influencing and being influenced by a great deal of musicians. The punk rock band Hi-Standard who have enjoyed success overseas played their first show at Koenji's 20,000 Volt, and "Koenji" has been mentioned in lyrics of some artists such as in "Night on the Galactic Railroad" by Ging Nang Boyz.
In the 1960s, Koenji was known for its many "rock kissa"—rock music cafes and bars—with places such as "Movin'" and "Keyboard" as notables. In those days these "rock kissa" thrived by providing a place for music fans to get together and listen obsessively to the latest overseas imports of The Beatles or The Rolling Stones and the like.
In the 1970s, Kousetusu Minami of the folk band Kaguyahime, as well as legendary folk singer, Takuro Yoshida, began living in Koenji. Takuro Yoshida even had a song titled "Koenji". Around 1980, Michiro Endo of the punk band The Stalin also started living in Koenji, and at that point it simply became natural for rock fans and musicians to have a presence in the area.
In addition to these people, there were also many important places. Live music venues (known as "Live Houses" in Japan) such as Jirokichi, Inaoiza, Show Boat, and 20,000 Volt (currently known as "Niman Denatsu" (二万電圧) after relocating to Higashi-Koenji) opened in Koenji, and at the same time the area saw a rapid increase in the amount of used and vintage clothing shops, further giving rise to the unity of diverse fashion and music that is the subculture of Koenji.
The Koenji Music Map "World's End Garden"
In this music town of Koenji, Mr. Yoshikiyo Shiraishi ("Shiraishi-san" in the following), manager of Sound Studio Dom (established 1994), has long been a trusted member of the musical community, integral in providing a practice space for many musicians over the years. Sound Studio Dom has become known as the home studio for such Koenji notables as the hardcore punk band Tetsu Arei, rapper Shinpei, and is used by the alternative rock band Gezan, among others. Additionally, the studio hosts numerous music events, and in October 2022 opened its own music bar in its "C Studio," so that people can enjoy not only live music but also relive the days of the "rock kissa" at Studio Dom.
Shiraishi-san has put together a music map of Koenji's various locations though a social project he operates titled "World's End Garden."
In the current version, as many of 62 recommended music-related locations (bars and clubs, etc.) are shown on the map. English is also included for overseas visitors to be able to navigate the vast musical sea of Koenji. The Japanese motif design with a collage of Mt. Fuji on the cover also makes this stylish map worthy of a souvenir to take home and remember your music outing (or plan a future one).
As a special treat for Experience Suginami Tokyo readers, Shiraishi-san, who has become a pro in terms of knowing where to find fun music spots in Koenji, guides us around some of his favorites. "The best kind of day is one where you can encounter good music," he explains, and it's exciting to see what kind of places he'll introduce. Let's walk the streets of Koenji with him and find out.
First, Pick Up a Koenji Music Map at Koenji Station
In addition to the racks inside JR Koenji Station, you can also get copies of the World's End Garden music map at the racks in front of the entrance to Sound Studio Dom, located in the covered shopping area, Pal Street, about a 2-minute walk (130m) from Koenji Station. Furthermore, there is a web version available as well: https://worldsendgarden.com/ (external link).
Without further ado, below we introduce 5 of Shiraishi-san's recommended music establishments in Koenji.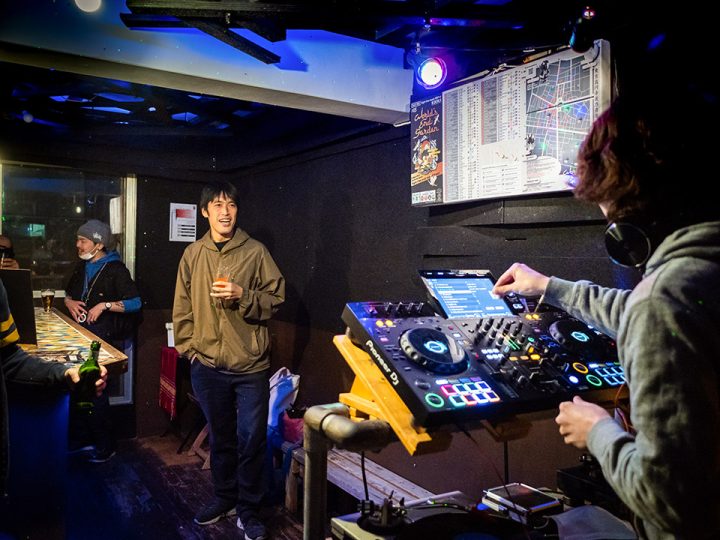 C-Studio Bar (at Sound Studio Dom)
First off, let's take a peek at the new bar "C-Studio" inside the headquarters of World's End Garden, Sound Studio Dom. Within Dom, C-Studio is a music bar that is the place for mingling with other music-lovers and serves as an information center for music and more in Koenji.

C-Studio is fully equipped with a free DJ space, making it a great place to enjoy good music together with drinks, and here everyone can feel they are even, no matter their age, sex, nationality, background, etc. Here it doesn't matter if you're famous or unknown. With this purpose to create a comfortable environment for all, music journalists, artists, scholars and people from all walks of life visit the bar. The staff are knowledgeable about Koenji so if you want to know more about a certain place, feel free to ask. You can leave to go barhopping at some other places, then return to C-Studio once more and give us your review on the places you went for the ultimate reaction!

Site Link: Sound Studio Dom
Price:


(no entry charge, cash only)
Address:

4 Chome-25-7 Koenji-minami, Suginami, Tokyo (4th floor)
Distance from Station:

2 minutes on foot from JR Koenji Station, South exit
Phone:

03-3318-3569
Open:

10:00am - 12:00am
Website:

https://www.soundstudiodom.com/ (external link)
Communication:

English speaking staff available.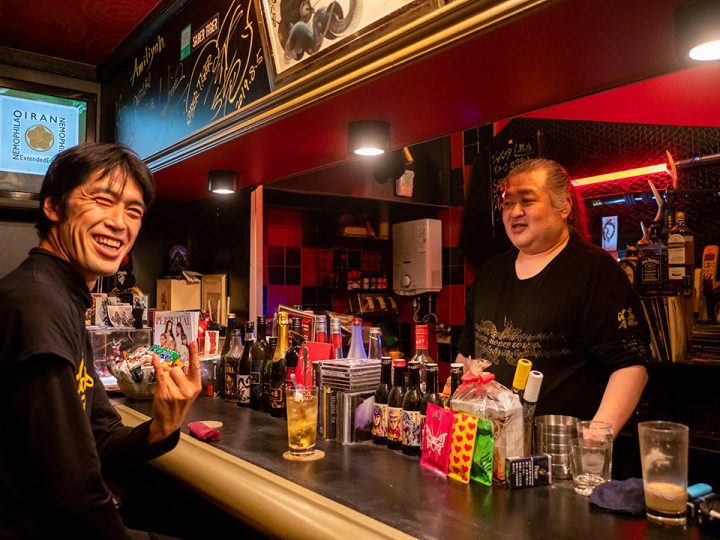 Ryu no Kakurega (Japanese Metal Bar)
Ryu no Kakurega is a Japanese metal specialty bar. Japanese metal is such a small niche of a genre, but at the same time this narrow bar will make you feel as if you are at the foot of the mountain that is Koenji's music scene.

When I go to Kakurega, I love talking about Japanese metal with the owner, Mr. Takeuchi, more than anything. However, the greatest feeling is that moment when one of the songs playing on the stereo fits perfectly to my mood and I get really into it. The metal music genre is very niche so that it is difficult to know what to look for, but that is a nonissue at Ryu no Kukurega because you only have to open your ears to the really cool bands and songs they play.
On the drink menu you'll find "Japanese Metal Mega Cocktails" that are associated with metal band's song titles (much like Metal Meshi's food menu), and especially recommended is the "Adam's Apple" cocktail paying homage to the Japanese heavy metal band Seikima II. Vodka is diluted with apple juice, and then topped with Spirytus-stained sugar cubes that are lit on fire. How much more metal can you get?!
Price:


Entry charge ¥1,000 (pay full drink tab before leaving)
Address:

2 Chome-38-14 Koenji-kita, Suginami, Tokyo (2nd floor A)
Distance from Station:

5 minutes on foot from JR Koenji Station, North exit
Phone:

03-5327-8505 (Japanese only)
Open:

7:00pm - 4:00am, closed on Sundays and holidays
Website:

https://ryu-no-kakurega.wixsite.com/ryuuno (external link)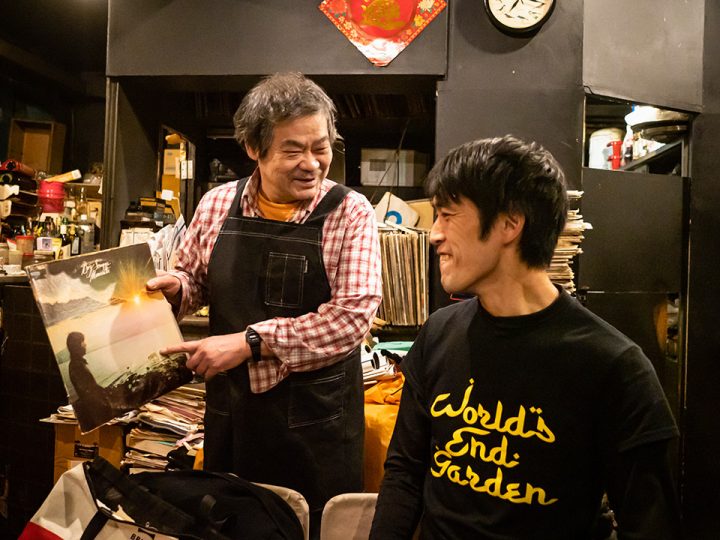 Bamii (Asian Restaurant)
Bamii is a restaurant serving Asian cuisine and alcohol. The food is great but their record collection of over 20,000 albums brings the greatest impact. The couple that runs the place are so knowledgeable you'd think they know everything about the history of music in Koenji and further down the Chuo train line. I love a place like this where you can have your questions answered directly without having to flip through music books or magazines.

Even if you go in the late night, you can hear astounding music from limitless genres extending from metal to Middle Eastern hip-hop. Many of their customers are creative-minded people, and Ms. Rumi-san, who runs Bamii with her partner, often introduces customers to each other so that conversation is always flowing.
It's also interesting that Bamii's most popular dishes are on their secret menu. You won't see it on the menu, but be sure to ask for the Tom Yum Goong flavor Kara-age (Japanese fried chicken). Trust me. The Kabocha (pumpkin) Coconut Pudding is also my personal favorite, and they go all in on the ingredients for this one.

Site Link: Bamii
Price:


(No entry charge, tab to be paid when leaving)
Address:

3 Chome-58-18 Koenji-minami, Suginami, Tokyo (2nd floor)
Distance from Station:

1 minute on foot from JR Koenji Station, South exit
Phone:

03-3318-2621 (Japanese only)
Open:

Sunday - Tuesday 5:00pm - 2:00am, Friday & Saturday 6:00pm - 3:00am
Website:

https://www.facebook.com/cafe.ethnic.bamii/ (external link)
Communication:

Staff speak Japanese only.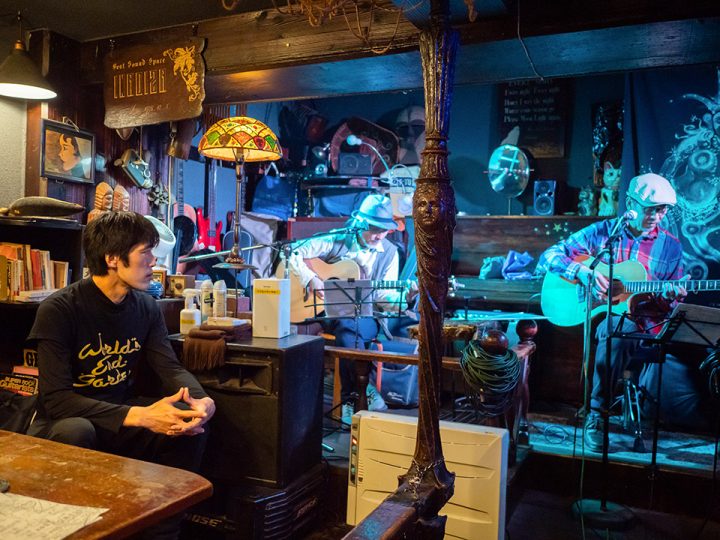 Inaoiza (live music bar)
Inaoiza is a longstanding live music bar, established in 1978. No matter when you go, it's nice to know that somethings never change. The vintage vibes and rustic atmosphere are not on show as a fashion statement, but rather it is simply as if time has stopped here in a splendid way. There's a live stage, bar counter, and just the perfect space for enjoying music. The musicians who perform here all have specific fixations, and it's quite clear they are both serious about their music and are enjoying playing it.

I was in a band about 10 years ago, and the last show I ever played was here at Inaoiza, so I suppose I have an emotional attachment to this place. The owner, Mr. Raychel-san, also runs a non-profit organization called Koenji Nyandollars that helps animals, and he lives a life of cats and dogs and humans supporting each other.
Price:


Usually charge of ¥1,650 paid at door at entry (Food and drinks are extra, cash only)
Address:

2 Chome-38-16 Koenji-kita, Suginami, Tokyo (2nd floor)
Distance from Station:

5 minutes on foot from JR Koenji Station, North exit
Open:

7:30pm - 3:00am, Live Time 8:00pm - 10:30pm, Bar Time 10:00pm - 3:00am
Closed on Tuesdays
Website:

https://ameblo.jp/inaoiza/ (external link)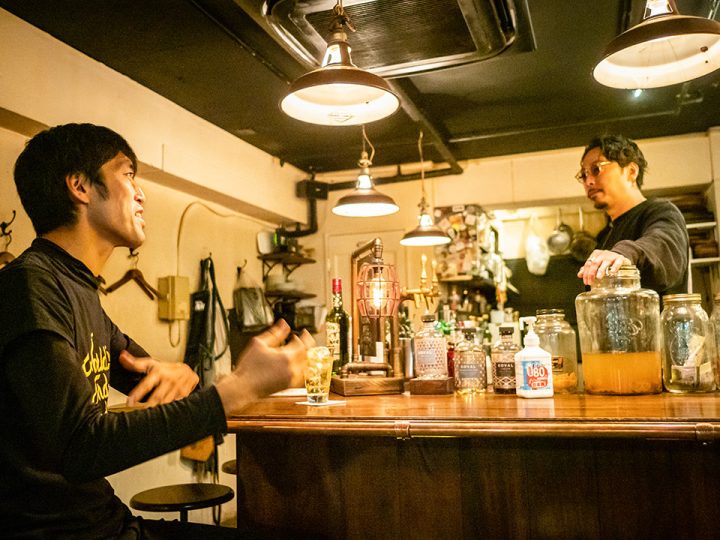 Bar Light (music bar)
Bar Light is a music bar where you can find good alcohol and good music. Even though I have a low tolerance for alcohol, I still want to go to Light, and there are various drinks I want to try. The experienced bartender, Mr. Shin-san, has won Japanese cocktail competition sponsored by the Irish whisky brand Jameson.

Bar Light is not simply a place to drink, but a place to really savor your drink. The music played here is mostly a mix of soul and funk. I'll often search the songs on Shazam (music search app) so that I can enjoy them at home as well. My go-to drink here is Jameson Apple, which I love because with my low alcohol tolerance I can enjoy it without consequence. The world view that the owner wanted to create was fulfilled in this bar on a Koenji street—that's the kind of special place that Bar Light is.
Price:


(No entry charge, tab to be paid before leaving)
Address:

4 Chome-7-15 Koenji-minami, Suginami, Tokyo
Distance from Station:

4 minutes on foot from JR Koenji Station, South exit
Phone:

03-3318-8003 (Japanese only)
Open:

Weekdays 8:00pm - 5:00am, Weekends 12:00pm - 5:00am
Website:

https://www.instagram.com/light__koenji/ (external link)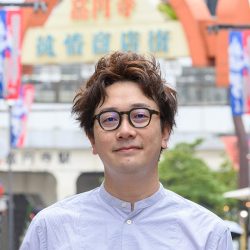 Follow Up
So, how was it? These are the 5 recommended establishments by long-time Koenji music fan and pro-music enjoyer Yoshikiyo Shiraishi.
With your World's End Garden music map in hand and Shiraish-san's nuggets of Koenji musical wisdom, enjoy walking these streets. You'll likely meet the greatest music and characters you couldn't even have imagined.

Koenji, as a low-lying area of Tokyo, cannot be compared to downtown hubs like Shinjuku and Shibuya, and you'll feel the more amiable and locally-natured vibe that remains here. The shop staff here have a very human side to them, and many are very chatty. Enjoy Koenji's atmosphere very human-like interactions, the likes of which you cannot taste fully in the major tourist areas of Tokyo.

Reference: "Koenji Folk Tradition", Suginami Historical Museum (1996)

[published February 2023]
Guide: Yoshikiyo Shiraishi
Writer: Tsuyoshi Shigeta
Translator: Greg Mudarri
Photographer: Mark James Hill

Tsuyoshi Shigeta (shown) is an editor-in-chief and writer residing in Koenji, often posting dining information on social media such as Instagram, Twitter, and TikTok. Alongside writing for other media and giving lectures, he also works in social media support. He enjoys dark roast drip coffee.