KOENJI AWA-ODORI FESTIVAL
Price:


Free (besides special seats)
Address:

Near JR Koenji Station, North and South of the station
Website:

http://www.koenji-awaodori.com/ (external link)
KOENJI AWA-ODORI FESTIVAL
Traditional Awa Dance Festival in Koenji
[updated July 2022]
Tokyo Koenji Awa-Odori is a summer festival that has come to represent Tokyo. The Awa-Odori, or Awa Dance, is originally from the Japanese island of Shikoku, and Koenji hosts Tokyo's version of the traditional festival. In Tokyo style there are food and drink stands lining the streets and large crowds of people— one million people gather in two days, and over 10,000 people dance. The event is even attracting interest overseas. Experience the dynamic Awa-Odori as you say good-bye to the ending summer.
Tokyo Koenji Awa-Odori is normally held the final full weekend of August, from 5-8pm on both Saturday and Sunday. If you're in Tokyo at the time, be sure not to miss it!
*Please note the 2022 event has been cancelled, although an indoor event at Za-Koenji Theater will be held on August 27-28 to limited capacity for those who purchase tickets in advance.
Awa-Odori Rehearsal
There will be around 30 groups that will perform at Koenji Awa-Odori festival and each of them practice hard to prepare for the event every year. One such group, the Kikusui group, for example, has approximately 90 members and the number keeps growing over the years. The members' ages range from 3 to 65 years old and they come from many different backgrounds. Some are students, office workers and business owners. Some are veteran dancers who have been dancing for over 15 years and some are first-timers. The practice is held at Za Koenji Theater which has a room special for Awa-Odori dance troupes' practice.
Usually the practice is held once or twice in a week but as the event draws near they practice almost every day, including weekends. "We are practicing every night for 3 hours and only have little breaks for 10 to 15 minutes" the leader of Kikusui stated. "We try to arrange the practice according to the members' schedule, and on weekdays some members come right after work or school from 7:30 until 10 o'clock at night. A week before the real show, the practice and rehearsal will get more intense and very packed."
A lot of sweat and hard work goes into the spectacular Awa-Odori performance. We can see the dedication and commitment the troupe members put in throughout the year just for the two-day event.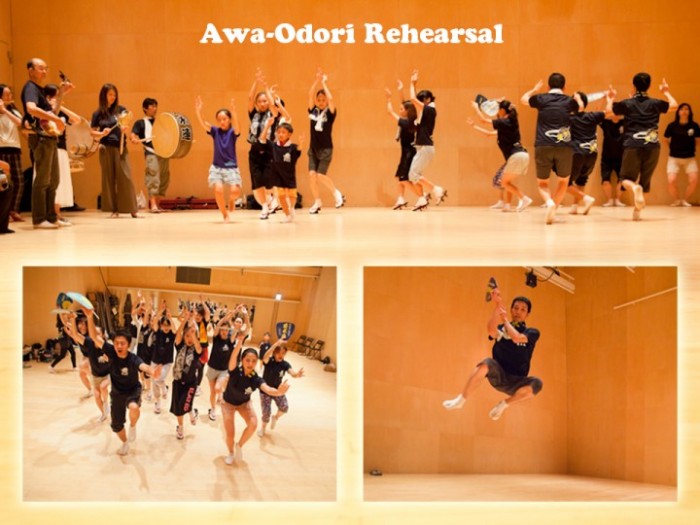 Pre-Show
Usually in the end of July there is an Awa-Odori Pre-Show in Koenji, which instead of the 2-day grand event with over a million visitors, might be considered a lower-key "dress rehearsal" of the big event a month later. It is certainly a great chance to check out what the festival is like without the big crowds, so if you are in Tokyo in the end of July but not in the end of August, you can still experience this traditional and popular summer event.
The Pre-Show is usually held on a Sunday in the end of July, about a month before the Awa-Odori festival.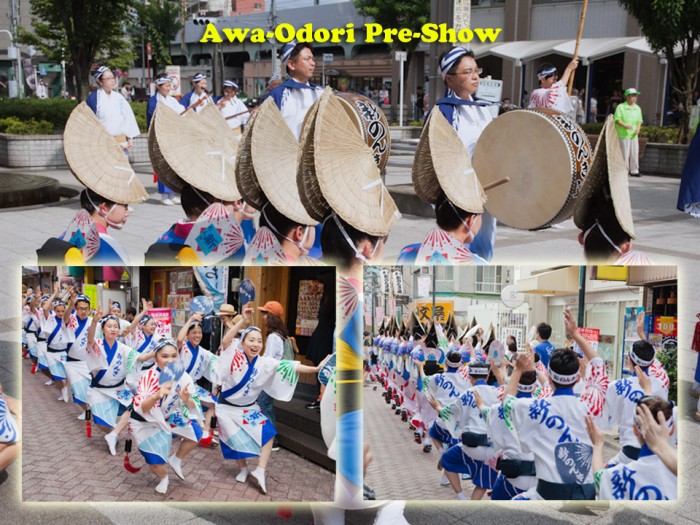 ACCESS

Translation: Enju
Photography: TFF staff, Awa-Odori staff