KOENJI: TOKYO'S MUSIC MECCA
[updated July 2021]
Like in any country, music scenes exist in multiple places in multiple cities, each with their own defining characteristics. Japan is no different. Koenji, on the Chuo Line in Tokyo's Suginami ward, wouldn't claim to be the be-all-end-all of the Japanese music scene, but certainly has a distinct flavor all its own.
I first encountered the name "Koenji" before even coming to Japan, in books such as "Japan Edge" (Cadence, 1999) and "Japanese Independent Music" (Sonore, 2000) while pursuing my burgeoning interest in Japanese independent and noise music as well as subculture. In both books' Tokyo map sections, Koenji is highlighted as a music mecca with an overwhelming number of live venues and a town where many artists and musicians reside. The area is said to be more important than the center of Tokyo for noise music and experimental music lovers, something I found to be absolutely true after coming to Japan. The most legendary venues for these types of music were 20000V and Penguin House, which are sadly now both gone, 20000V from a fire in 2009 and Penguin House after the owner died December 2019, with further complications from the COVID-19 pandemic that ensued in 2020 making it impossible to continue for the remaining staff. Footage of live music at these legendary venues remains in some capacity, but there is not much to be found regarding the people behind the scenes. I knew the owner of Penguin House, Arrow-san, and talked to him many times, but after he passed away I realized I didn't have anything left of him to show to people. If Penguin House was still around his memory would live on there for sure, but especially when Penguin House was gone I wished I had interviewed him. That is a big reason why I decided to make this documentary. Before we lose more of these gems in the underground music scene of Tokyo, particularly in the "subculture and music town" of Koenji, it seemed important to explore how Koenji came to be this hotbed for music, and how it can be kept that way.
-Greg Mudarri, Experience Suginami Tokyo director
Thank Koenji's Lucky Stars
It seems a number of stars lined up to allow Koenji to become the music town it is. First of all, in the past people and businesses slowly started to trickle west along the Chuo Line from Shinjuku, a downtown business and entertainment hub with its own important music history. Things also shifted there from Kunitachi, a college town on the west side of the Chuo Line. People came to Koenji because it was cheaper, but still had quick access to Shinjuku. Not only was it cheaper to live, but there was also cheaper food and nightlife. This made it more accessible for music fans and musicians, who didn't have a lot of money, to gather and be social. Because so many artists and musicians gathered in Koenji, music was everywhere in Koenji and they started to make music right outside their doors. Nowadays musicians play all hours in the street and squares in front of the station, an atmosphere you can't really experience to this extent anywhere else.
Another factor is that Koenji has the largest used-clothing district in Tokyo. How this came to be is perhaps subject for another article, but in any case fashion has always been tied to music, and the large numbers of these shops in Koenji helped some musicians, be them hippies or punks, find their defining wardrobes. For others, there were cheaper options that allowed them to save money and continue living the life of an (often poor) underground musician in Koenji.
Eventually magazines latched on to Koenji's music culture, inspiring future generations to make something of themselves in the town. Digging deeper, further reasons Koenji became the music town it is are deeply rooted in its history.
The 1960's: The Times They Are A-Rockin'
In exploring the musical identity of Koenji, I first became aware of places referred to as "Rock-Kissas" from my interviews with people who knew something of the Koenji of old. Back when the Beatles played the Budokan in 1966, there certainly weren't any small music venues for local bands to play at. In fact, the Budokan itself wasn't intended as a music arena; it was built for the judo competition of the 1964 Tokyo Olympic Games. So instead of seeing music live, it was more common to go to a place where you could listen to records. In Japan, a "kissaten" is basically a coffee shop or teahouse with a retro vibe. In the 60's when the cultural phenomenon of rock music found its way to Japan, people went to a "rock-kissa" to listen to rock 'n' roll records, but these places weren't limited to coffee, as they also served alcohol. Apparently, there were a great number of these establishments along the Chuo Line and particularly in Koenji. This is almost certainly the birth of Koenji's musical and nightlife identities.
The 1970's: Our Livehouse is Your Livehouse
After the "rock kissa" revolution, finally bands started developing and people needed places to play at. First a few places allowed musicians to play at their shops or bars, but Jirokichi was the first actual live venue to open in Koenji, in 1975. The owner had come back from abroad, where he spent time in a local music venue that inspired him to open one in Tokyo. These live clubs came to have the welcoming Japanese-English name of "livehouses". Now we can use the term "livehouse" to describe a music club in Japan. Though nowadays various genres can heard among its half-century old basement walls, in the 70's Jirokichi not only became the home ground for a lot of local jazz and blues acts, but also big international names eventually started to look for places to mingle with locals after their shows at larger venues in central Tokyo, and found Jirokichi to be just the place for impromptu shows and that up-close local vibe.
The 1980's: The "Birthplace" of Japanese Punk
After Jirokichi further put the Koenji music scene on the map, other livehouses followed suit. Penguin House also opened on the north side of Koenji Station in 1984. Every time I used the bathroom in this retro basement live pub, I always found myself reading the same English newspaper article, proudly displayed under laminated plastic. Koenji gained exposure in America in 2008 when an article in the New York Times labeled the neighborhood as the "birthplace of Japanese punk rock." In my interviews I tried to find out if this was true. Though it may be the case, the actual origins of Japanese punk are still unknown to me at this juncture, but what I do know is that by the mid to late 80's the punk scene was exploding in Koenji. My interviews with punk rockers and otherwise all confirmed this. The center of this scene was most certainly 20000V ("Niman Volt"), where the scene was bustling and sometimes even violent. It may have been scary for outsiders and even insiders at moments, but from what it sounds like it was usually the result of punk rockers drinking too much and having too much energy rather than any serious altercations.
The 1990's: The Heyday of Koenji's Music Scene?
The 90's were a raging time for "alternative music", which was very connected to punk rock and open to noise and more experimental genres. I myself wouldn't have found Japanese noise music, for example, if it weren't for Sonic Youth introducing me to Keiji Haino and Merzbow or Nirvana introducing me to the Boredoms in the 90's. As these subculture trends reached their limits and beyond, the number of bands and musicians starting up or moving to Koenji increased dramatically. It's the "chicken and the egg" when it comes to which came first in terms of musicians and venues in Koenji, but of course the number of livehouses also further increased with the likes of Showboat in 1993 and U.F.O. Club in 1996, both legendary venues in their own right. These venues took it up a notch in terms of sound quality and style. The lava-lamp design of the psychedelic-tinged U.F.O. Club was done by Shintaro Sakamoto, the lead signer and guitarist of Yura Yura Teikoku, a psychedelic rock band centered in the Koenji underground scene.
Koenji in the 2000's and Beyond
The popular and legendary venues steamed ahead forward, but according to most of the people playing in Koenji in the 90's, things started to slow down after. Not as many people came to shows. 20000V and the other venue in the same building, Gear, suffered terminal damage in a fire in 2009. The social scene of live shows everywhere became less vibrant, perhaps due to the advent of the Internet and eventually social media, making it easy for people to connect without going to a live music venue, for example. Such places used to be the hub of music culture. This change has happened again and more dramatically with the Coronavirus pandemic from 2020— only this time it is not by choice.
Save Koenji!
Not only from the difficulties of staying in business during the COVID-19 pandemic, but more complicated issues also threaten Koenji's existence. Koenji is so special because it has retained its "vintage" and "retro" vibe, something that its residents would like to retain. Despite many of these issues, we remain positive that Koenji's music and other culture will remain, but anything can happen. We learned this lesson well from the pandemic.
So if you are a music fan interested in Japanese culture, once it is safe to travel again, it is highly recommended you come and explore Koenji for yourself, while you still have the chance.
>CLICK HERE< for the PDF Koenji Music Map from World's End Garden, introducing the plethora of live and other music-related spots in Koenji, Tokyo, our favorite music town! Check below for other related links.
FEATURED IN THE KOENJI MUSIC DOCUMENTARY: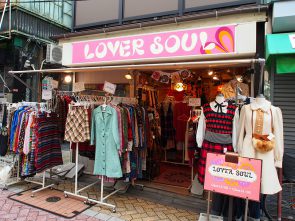 It seems the many used clothing shops that line the streets of Koenji played a role in its development as a music community.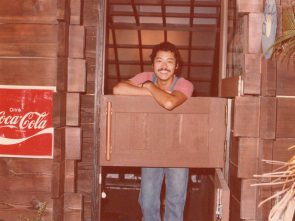 Makoto Arai opened Jirokichi in 1975 after spending time in a live music bar in Belgium (photo courtesy of Jirokichi)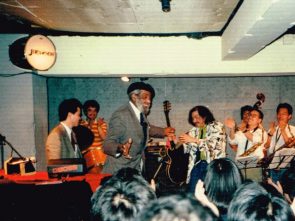 Many overseas musicians played at Jirokichi, such as blues guitarist Slim Gaillard in 1987 (photo courtesy of Jirokichi)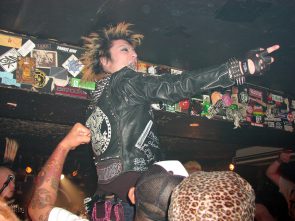 The punk/hardcore scene at the Koenji 20000V club was very intense, though it closed after a fire in 2009 (photo courtesy of Takahiro Ishida/Firebirdgass)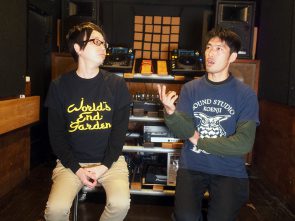 Tsuyoshi Shigeta (World's End Garden, left) and Yoshikiyo Shiraishi (Sound Studio Dom, right) are just two of the many people behind the scenes in Koenji who we interviewed in our documentary about Koenji music.