KOENJI BIKKURI STREET PERFORMANCE
Price:


Free except some venues. Food and drink available for purchase.
Address:

Near JR Koenji Station
Website:

http://www.koenji-daidogei.com/ (external link)
KOENJI BIKKURI STREET PERFORMANCE
Amazing Street Performing All Over Town!
[updated May 2023]
The Japanese spring holidays, "Golden Week", begins with this event!
Street performers from all over the country and foreign countries as well show their amazing performances such as juggling, chalk art, Chinese acrobatic performances, fire breathing, and many others. All the performances are held at around Koenji Station square, Koenji shopping streets and Za-Koenji Public Theater. More than 40 teams of performers from all around Japan and many other countries show their incredible talents during this exciting weekend event.
The Koenji Bikkuri "Daidougei" Street Performance event usually takes place on the last weekend of April.
Performances take place around Koenji Station from 11:00am until around 4:00pm. Maps and information will be available in front of the station during the event.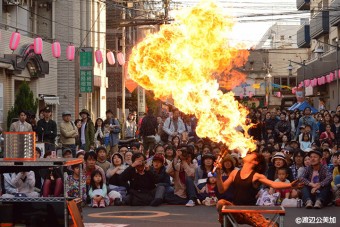 Locations
Events will be taking place in front of the station, both in the square in front of the north exit as well as the main street that leads south from the south exit. Za Koenji Theatre (2 Chome-1-2 Koenjikita, Suginami) also has performances in front of the entrance. In addition to these areas, most of the "Shotengai" shopping streets in Koenji will also have shows taking place. Below are links to these additional areas where performances will be held throughout the weekend:
Azuma Dori Street
Junjo Shotengai Shopping Street
Pal Street
Etoile Dori Street
Look Street
Koenji Chuo Park
ACCESS

Translator: Yoshio
Photographer: TFF staff